Joe Lolley: Huddersfield set to sign Kidderminster Harriers striker
Last updated on .From the section Football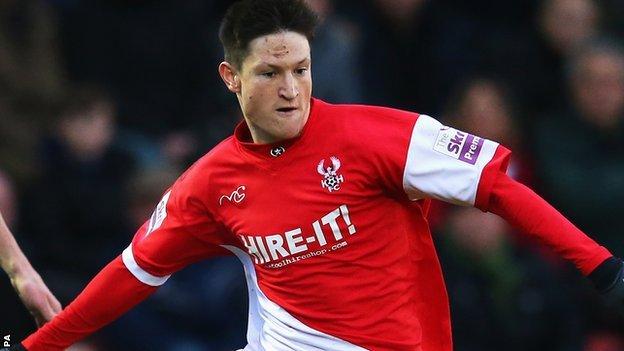 Kidderminster Harriers striker Joe Lolley is close to signing for Championship side Huddersfield Town.
He is now expected to join Huddersfield after playing in Tuesday's FA Cup third round replay at Peterborough.
"We're in discussions and feel we're very close to concluding a deal," said Terriers chairman Dean Hoyle.
"They allowed us to speak to the player and he'd like to join us. But Kidderminster wanted him to play in their next two games, which was fair enough. He's a very exciting prospect."
The first of those was Saturday's win over Salisbury in which, after scoring Harriers' opener with a stunning left-foot strike, Lolley earned himself a late penalty before grabbing the ball to complete his hat-trick with a second spot-kick.
That prompted new Harriers boss Andy Thorn to joke that they needed to get back to the negotiating table.
"After that, you can add another nought on the fee," Thorn told BBC Sport. "I'm sure the chairman will be delighted."
Lolley's final two games for Harriers are Thorn's first at the club following last week's sacking of his predecessor Steve Burr.
Having not previously seen him play, the former Wimbledon, Newcastle United and Crystal Palace defender was impressed with what he saw.
"He's a fantastic talent," said Thorn. "And it was great to see him get a hat-trick.
"But I told him in the dressing room that he must remember the reason he got that hat-trick was also down to the hard work of his team-mates. They got him that hat-trick. They put it on a plate for him.
"We'll be sorry to lose him but, when you have clubs knocking on the door, you have to be realistic.
"Everyone's got ambitions. That's football. Players move on and it'll be up to me now to improve the team."
Lolley, who has also been a serious target for Tuesday night's FA Cup opponents Peterborough, now has the chance to go a division higher with Mark Robins' promotion-chasing Huddersfield, who are just five points off the Championship play-off zone.
Saturday's treble took the cut-price summer signing's tally to 10 goals in 24 games for Harriers.
Before joining Kidderminster, Lolley was playing for Littleton in the sixth tier of non-league football, where he scored 88 goals in 83 games.