Jermain Defoe retains World Cup hope after MLS move
Last updated on .From the section Football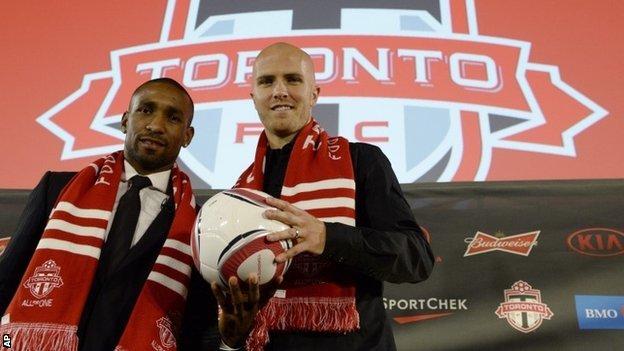 England striker Jermain Defoe does not believe that his move from Tottenham to Major League Soccer side Toronto will harm his World Cup chances.
The 31-year-old will stay at Spurs until moving to join the Canadian side on 28 February ahead of this summer's football showpiece in Brazil.
"The most important thing for me is just playing football, scoring and doing well for the team," said Defoe.
"Hopefully, then I can be on a plane [to Brazil]."
Defoe said this season has been "stop-start" for him, having made just three Premier League starts for Spurs and 10 appearances as a substitute.
However, he has been first pick in most of the cup competitions, making eight starts in the Europa League and Capital One Cup.
He has scored seven goals in the Europa League, two in the Capital One Cup and one in the league - which came last Saturday in a win over Crystal Palace.
"I have to be honest, I did think about the chances of going to the World Cup," said Defoe.
"It's always important to play well for your club, and having played in a World Cup before, it's just the greatest thing in the world. It's a dream come true.
"And yes, it did cross my mind, but at the same time I believe the MLS is going to be fantastic for me, and it's important to be playing.
"To get into any World Cup squad or any European Championship squad for your country, it's based on merit, which means you've got to play well, you've got to be fit and ready.
"I'm just looking forward to playing football."
He added: "I have played in the Premier League my whole career, scored at lot of goals.
"At the age of 31, I would like to think that the England manager [Roy Hodgson] and everyone in England knows what I can do, what I bring to the team. If selected I'll be ready."
Defoe was speaking as he was presented to the media, along with Toronto's fellow new signing Michael Bradley.
United States international midfielder Bradley, 26, was signed from Italian side Roma for £6m.
Former Aston Villa player Bradley has made 11 league appearances for Roma this season as they sit second in Serie A.
Defoe has agreed a four-year deal worth £68,000 per week and potentially rising to £90,000, while Bradley is believed to signed a six-year deal worth up to £22m.
The pair are two of Toronto's three designated players, who the club are permitted to sign outside of the £1.8m ($3m) salary cap the MLS impose on each franchise.
Toronto finished second from bottom in the MLS Eastern Conference last season and have also signed Brazilian striker Gilberto ahead of the start of the campaign on 15 March.
Tim Leiweke, president of Toronto owners Maple Leaf Sports and Entertainment (MLSE), said: "To do one DP (designated player) is a smart move, to do two DP's is not the smartest thing ever done and to do three is financial suicide.
"We don't have enough seats to make economic sense out of this and we have raised our ticket prices.
"But we needed to repair the integrity of the relationship with our fans and to the owners credit they understand the first year is a lost leader and we're not going to dwell on that."