Can Christian Benteke save Aston Villa's season?

By Phil McNulty
Chief football writer
Last updated on .From the section Football527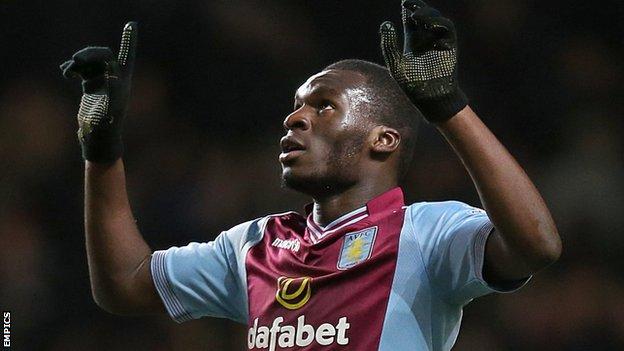 Christian Benteke's selection as Aston Villa's man of the match in defeat to Arsenal was more the result of a painful lack of alternatives than the good work of the enigmatic Belgian.
If Villa manager Paul Lambert wanted to clutch at any small mercies from another home defeat, the fact that Benteke ended a barren sequence with his first goal in 14 hours 45 minutes stretching back to 14 September was his best hope.
For more than an hour of Arsenal's 2-1 win - a result that took them back to the top of the Premier League and left Villa five points above the relegation zone - Benteke looked a lost soul as his touch deserted him and any sight of goal was swiftly snuffed out by the Gunners defence.
These are not the happiest times at Villa Park. When a prize for a half-time shoot-out was announced as season tickets, this supposedly glorious news was greeted with jeers from supporters who had already cleared their throats to aim derision at Lambert's players.
And the symbol of those struggles was Benteke, the same Benteke whose deeds had earned him hero status on Villa Park's Holte End last season.
Gone was the powerhouse who scored 23 goals in his debut campaign in England, the 23-year-old who was linked with £25m moves to Tottenham and Chelsea during a period of summer discontent.
In his place was the hesitant, peripheral figure who has struggled with injuries, loss of form and lack of service since opening the season with two goals in Villa's win at Arsenal and another in an unlucky loss at Chelsea.
Benteke's decline, so puzzling for a player of such obvious ability, was a far cry from the day in July when a transfer request was withdrawn as quickly as it was made and Villa supporters celebrated what they regarded as their best signing of the summer when he agreed a new four-year contract.
Indeed, some may have been wondering if Villa might now be regretting not taking the big money a Benteke sale would have raked in rather than watch his persistent struggles this season.
And yet, for all the frustration of a game in which Villa eventually provided some endeavour to counter Arsenal's very obvious technical superiority and class, there were one or two late signs that Benteke might just be coming back to life.
On the mainly grim evidence provided by a Villa side lacking quality, confidence and creation, Lambert's key task in his attempt to keep them away from the relegation zone is to fire up Benteke once more.
This is why, as he reverted to the beaten manager's default position of taking the positives from defeat, Lambert will still look to Benteke as Villa's talisman.
After that dismal first 70 minutes, Benteke suddenly woke up and Villa - not to mention Arsenal - were reminded of what a force he can when the fancy takes him.
He showed great athleticism to send a volley wide and, with 14 minutes left, scored a stooping header at the far post to offer Villa the possibility of a point that had looked light years away for most of the night.
Benteke was not exactly transformed but at least there was more of a spring in his step, his physical presence requiring all the attention of Arsenal's fine central defenders Per Mertesacker and Laurent Koscielny.
Lambert must now make sure Benteke maintains that late improvement and build on it as he has the tools to make a very difficult job a lot easier between now and the end of the season.
He can be unbeatable in the air, has good touch on the ground and his finishing is improving. His sheer size alone, particularly when moving at pace, makes him a danger to any defence.
Benteke's importance is emphasised by the fact that Villa are so obviously operating in reduced circumstances. The big-spending days of owner Randy Lerner are a distant memory, another reason why Lambert needs his most dangerous attacker back to his best.
Lambert's admission that he may look to do a deal for his 32-year-old former Norwich City striker Grant Holt, undistinguished in the Championship with Wigan Athletic this season, demonstrates the market he is working in.
Benteke also has a vested interest in rediscovering his old authority and menace. This is a World Cup year and his performances this season cannot hold a candle to those of his fellow Belgium striker Romelu Lukaku at Everton. It has been more of a no-contest than a rivalry this season.
Benteke, for 20 minutes at least, hinted at better things to come. Villa will need even more from him.
For all the spirit shown in a late rally against Arsenal, there is a mood of resignation around Villa Park after that embarrassing FA Cup defeat to League One Sheffield United and a season that already looks consigned to a struggle.
Next stop is a visit to rampant Liverpool on Saturday evening. Benteke scored twice in a 3-1 win at Anfield last season, and Lambert will hope the sight of the Kop will again act as inspiration.