Southampton: Nicola Cortese future at Saints in doubt

Last updated on .From the section Football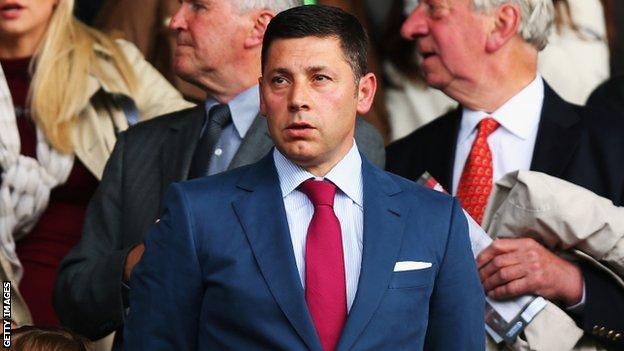 Chairman Nicola Cortese could leave Southampton over divisions with the club's owner, Katharina Liebherr.
The 45-year-old has yet to make a final decision on his position but some at the club fear he could walk away at the end of the season.
Miss Liebherr became a trustee of Southampton FC after the death of her father Markus in August 2010, but she has no interest in football.
Southampton declined to comment when contacted by the BBC.
Cortese considered his position in May as he attempted to clarify the future position of the club with Miss Liebherr.
He eventually decided to stay after receiving the necessary assurances but this time the fallout is more serious, leading to greater uncertainty about the future. The divisions do not relate to interest from another club.
The former Swiss banker has been a key figure in the Premier League club's rise from the depths of League One.
Last season manager Mauricio Pochettino said he would leave if Cortese departed.
"I would not understand staying in this role if Nicola was not here," Pochettino said. "The person who actually called me from the start, told me about the project and put the faith in me, was Nicola."
The Southampton manager is scheduled to attend his weekly press conference on Thursday.
Cortese bought the Saints in 2009 on behalf of Markus Liebherr, a wealthy Swiss investor, to lift the south-coast club out of administration.
He took on the day-to-day running of the club as they prepared to start the 2009-10 season at the foot of League One. The Saints had been docked 10 points for entering administration under the previous regime.
When German-born Liebherr died in 2010, the club said "well-laid plans that Liebherr and Cortese mapped out over a year ago will continue to be implemented uninterrupted".
And, after finishing seventh in their first season in the third tier, the south coast club won back-to-back promotions under former boss Nigel Adkins to seal a Premier League return after a seven-year absence.
Cortese decided to replace Adkins with ex-Argentina defender Mauricio Pochettino in January 2013, when the Saints were three points clear of the relegation zone.
Pochettino guided them to safety with home wins over Manchester City, Liverpool and Chelsea, and this season they are currently ninth in the top flight after 21 games.