Rangers: Manager Ally McCoist instructed to cut wage bill

By Alasdair Lamont
Senior football reporter, BBC Scotland
Last updated on .From the section Rangers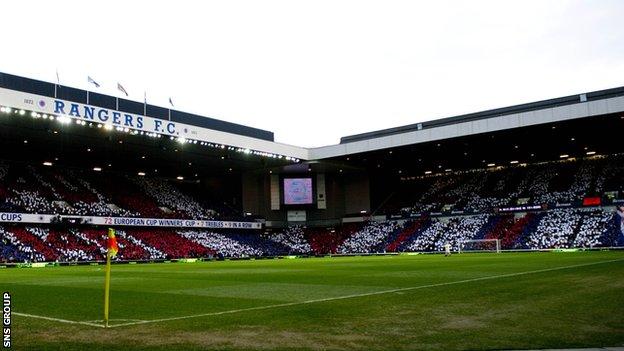 Rangers manager Ally McCoist has been told he will have to make cuts to his playing budget.
McCoist has been in discussions with Graham Wallace recently as the chief executive undertakes a comprehensive review of the Ibrox finances.
Wallace told shareholders at the annual general meeting in December savings would need to be made.
And the players' wage bill at the League One side currently stands between £6m and £7m per annum.
A spokesman for the Rangers board told BBC Scotland: "The CEO Graham Wallace outlined his strategy at the AGM and nothing is going to deflect him from getting Rangers back on an even keel.
"Graham and Ally are reviewing the football budget, as part of the overall business review and it would be inappropriate at this time to discuss any figures."
The news comes on the day that three million shares worth around £750,000 were traded in Rangers International Football Club plc.
Richard Hughes sold his 2.2m shares in the Ibrox outfit.
The share price dropped as low as 24p early in the day before rallying slightly to close at 28.5p.
That is a fall from the 70p price at the launch of the share issue just over a year ago.
Hughes, of Zeus Capital, made a profit of more than £500,000 despite the share price hitting its lowest ebb since flotation.
He was one of the former Rangers chief executive Charles Green's original investors, who bought his holding for 1p a share, a total of £22,000.
Hughes is a former colleague at Zeus of the Rangers finance director Brian Stockbridge and Imran Ahmed, who helped Green raise money to buy Rangers and subsequently worked at Ibrox as the commercial director.
Earlier this week, McCoist signed off on a pay cut of around 50%, which he agreed to in October.
And consultant Philip Nash has been brought to Ibrox to help oversee the financial overhaul.