Hearts: Assistant manager Billy Brown to stay until 31 January
Last updated on .From the section Football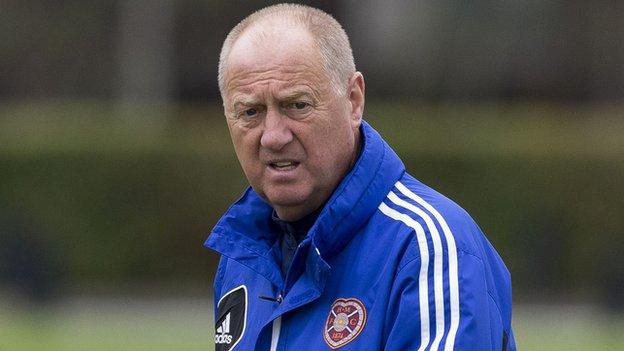 Assistant manager Billy Brown will remain at Hearts for a further two weeks, until his contract expires.
The administration-hit club had said the 63-year-old would be in the dugout for the last time on Saturday when Hearts visited St Johnstone.
But administrator Bryan Jackson was persuaded by manager Gary Locke and senior players to allow him to remain until 31 January.
Brown has said he is "very disappointed" to be leaving.
Jackson told the Hearts website: "Billy's contract doesn't run out until the end of this month. So I agreed with Billy that I was happy for him to see out the rest of his contract.
"He will be with us until January 31. As I said, the footballing side seem to know 100% that that's what they want so I have to support that.
"If that's what Gary wants, and he feels so strongly about it, we're only talking about a couple of weeks then I'm happy to let those two weeks run.
"We may well reassess the situation during those two weeks, but Billy will be with us for at least the next two weeks.
"There's no additional financial outlay for the club. He's contracted to the end of January so he's getting paid until the end of January, so it's not costing the club anything to let him do his two weeks.
"As Billy says, he has absolutely no agenda to stay on for the full term, he just wants to try and help Gary and help the team.
"His contract runs out just before the Scottish League Cup semi-final and that does make it a bit awkward, but one of the arguments of the players was that it's coming at a bad time - two weeks before such an important game - so for us to change something at the club and not have Billy there was just bad timing."
Brown returned without pay for his third spell as assistant after the club entered administration in June, signing a short-term deal in September.
The club say the decision to part with Brown is down to "financial prudence" and they will not be seeking a replacement.
Locke has a long association with Brown, having played under him and Jim Jefferies at Hearts, Bradford and Kilmarnock.
And Brown is urging supporters to back Locke as the team struggle at the foot of the Premiership, having started the season with a 15-point deduction.
"Having worked with Gary as a player over a great number of years I was always of the opinion that he had the making of a top manager and I've seen nothing to change my mind," he told the club website.
"The way he has handled a difficult situation has been magnificent."
Brown, who had a brief spell coaching at city rivals Hibernian, left the manager's post at East Fife at the end of last season.