Hull City: Assem Allam's threat to quit the club angers fans' group
Last updated on .From the section Football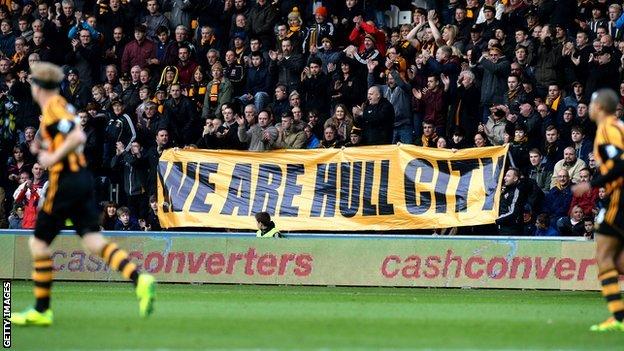 Hull City chairman Assem Allam has been accused of showing a "lack of respect" after threatening to quit his role if he cannot change the club's name.
The plan needs Football Association approval and Hull fans' group City Till We Die are unhappy with Allam's threat.
"We believe the FA will be unimpressed by Dr Allam's lack of respect for their authority," said a fans' statement.
"City Till We Die are disappointed that at a time when he should be making the positive case for change and showing respect for the consultation process, which is under way, instead he is issuing threats.
"We are confident that supporters of Hull City will see through these remarks."
The Hull chairman has previously condemned opposition to his wish to rename the club and has reiterated his belief that his business decisions should not be questioned.
The FA has requested comments from Hull supporters on the proposed changes as part of its consultation process.
However, Hull City's Official Supporters' Club were unable to agree with City Till We Die on a shared statement to be submitted to English football's governing body.
The two fans' groups will now hold a vote before submitting the results to the FA Council, who will make the final decision on the name change.
Allam bought a controlling share in the club in 2010 and believes renaming it will enhance marketability and improve their financial prospects following their promotion to the Premier League in May.
Manager Steve Bruce recently defended the Egyptian-born businessman.
"I think the chairman has put something like £70m into this club, so without him there wouldn't be a club or a 'Hull City' - it would be down the tubes," said Bruce.
"We have to respect his wishes, but on the other hand he has to understand too that a lot of people feel very, very strongly about this."
But Allam has refused to back down and said he could soon be leaving the KC Stadium if he received more criticism.
"I won't allow it, I can give you my CV to give you comfort, to see what I do in business and what I have achieved," Allam told Sky Sports.
"I'm here to save the club and manage the club for the benefit of the community. It will never be the other way round - that the community manage it for me.
"But if the community say go away, I promise to go away within 24 hours."