Chris Hughton: Norwich City boss 'meeting brief' despite fan criticism
Last updated on .From the section Norwich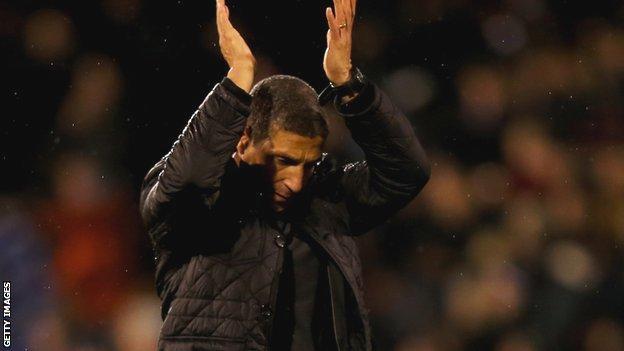 Norwich City manager Chris Hughton is meeting the board's targets despite calls from supporters for him to leave, says chief executive David McNally.
The Canaries sit 15th in the Premier League, are winless in six league games and face Hull City, who are three points above them, at the weekend.
"He's preparing the team for Saturday's game," McNally told BBC Radio Norfolk.
"The brief for Chris was to keep us out of the bottom three - we're not in the bottom three."
Despite taking just three points from the past 18 available, Norwich have not been in the relegation zone since late October - but are just two points clear of 18th-placed Cardiff.
in an FA Cup third-round replay further exacerbated the growing frustration among a section of the club's support, who are not only concerned about results but also what they perceive to be a defensive approach to games.
A text vote on BBC Radio Norfolk on Wednesday ended with 516 votes for Hughton to go, and only 34 for him to stay.
"The brief for Chris when we were in the bottom three was to keep us out of the bottom three and move us up the table," added McNally, who appointed the former Newcastle manager in June 2012.
"But in any position at the football club, if you don't produce results then ultimately that's how you'll be measured.
"Are we disappointed this year with performances? Yes. Are we disappointed we are 15th in the league? Yes."
McNally said the board is "absolutely committed" to make sure Norwich play "attractive football".
He added: "We accept we're in a trough at the moment, where performances have dipped at times. Clearly the results haven't been what we'd like.
"We're down there with 10 other teams. I'd absolutely love to have the payroll budget that some of our peers do."
Norwich are preparing for back-to-back Premier League home games, with Newcastle United visiting Carrow Road on Tuesday, 28 January.
The Canaries are in their third successive season in the Premier League, with Hughton taking them to an 11th-place finish last term, one spot higher than the season before.
And McNally has reiterated the importance of Norwich retaining their top-flight status, particularly with the Premier League television deal worth at least £62m a year.
"We would not contemplate relegation at our club," said McNally.
"In a sporting sense, it's worse than death. We are absolutely focused on making sure this great club stays in the Premier League."
Listen to David McNally talking to BBC Radio Norfolk's Nick Conrad