Mansfield Town: Stags hit by legal threat
Last updated on .From the section Mansfield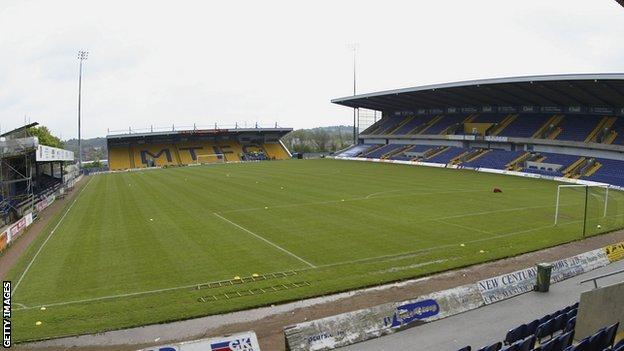 Mansfield Town say the threat of legal action against them by ex-shareholders and directors Andy Saunders and Steve Hymas could affect their ability to sign players in January.
The pair are owed almost £1m in loans from their period of ownership.
A statement said defending the action means the board must review the "effect it will have on January spending".
Saunders and Hymas have said they have tried to negotiate an agreement and are reluctantly taking legal action.
Stags chairman John Radford has not denied they owe £989,441.94.
But the club have said they are not in a position to repay the loans, which they say do not have a set redemption date.
The statement by Saunders and Hymas, who quit the board following behind-the-scenes disagreements in 2012, read: "We have in fact refrained from taking legal action for some six months while trying to negotiate an arrangement with Mr Radford for repayment of the loans, which became repayable once the club gained promotion and found themselves in better financial circumstances."
Mansfield's statement said: "It is disappointing that the actions will involve further significant legal expenditure by the club in defending the unmeritorious proceedings they have commenced.
"It may sadly mean that monies which could otherwise be used to strengthen the club's financial position may not be available.
"The loans are only repayable when both the club and Mr [John] Radford, the club's chairman, agree that it is in a position to do so.
"The club, its owner and its board will defend the claim robustly."
Saunders and Hymas said they were happy to negotiate an arrangement that would have "minimum impact on the club's finances".
They said: "As lifelong fans of the club we have never sought to damage it in any way, and in truth we have only ever supported it spiritually and financially - eventually becoming its involuntary bankers.
"We have never wanted to involve the club in any protracted and costly legal proceedings, but have no option but to do so due to Mr Radford's intransigence."