Plymouth Argyle owner James Brent Q&A
Last updated on .From the section Plymouth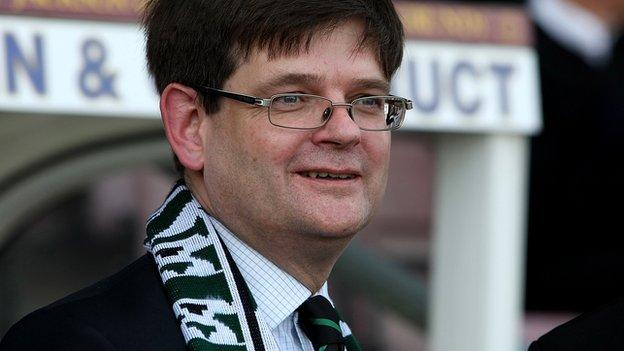 With John Sheridan having just celebrated his first anniversary as Plymouth Argyle manager, BBC Radio Devon took the opportunity to speak to Pilgrims owner James Brent in a wide-ranging interview.
From Sheridan's performance at interview to his approach to bringing players in, Brent discusses the last year at Home Park and his vision for the future.
Q: Can you talk us through the decision to appoint John Sheridan?
A: "He was one of three who we shortlisted, but if I'm honest it was obvious he wasn't used to doing interviews.
"But when we got into it he was really good - he was passionate, thoughtful, considered and it was a straightforward and unanimous decision and he's done a great job for us."
Q: What made him stand out from the other candidates?
A: "He's quite a quiet person and I think he was a bit nervous in front of a group of suits. But when we got through to his sense of humour he was very good and knew exactly what he wanted to do, so it was a very easy decision to make.
"I'll tell you a story about the interview. John was very, very nervous and giving monosyllabic answers to every question and I thought 'it's not going very well'.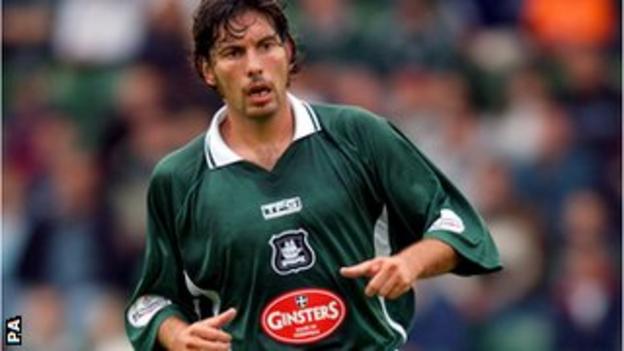 "So I asked him whether he remembered [Plymouth Argyle legend] David Friio. He looked very nervous and said 'I think I remember him'. And I said 'I think you should remember him... you were both sent off together after you lost your temper with him' and that broke the ice!
"He'd done his homework on players and we asked him how he would rebuild the football team and take it to a level that staved off relegation and got us promoted in the next year or two. He was very, very convincing. He'd really thought it through."
Q: You've hired people in many other businesses. How does hiring a football manager differ from making appointments in your other companies?
A: "Whether it's a hotel, a retail business or a football club, it's looking for someone who can motivate a team and who knows what they want to do and how they're going to do it.
"You want someone with a vision but who knows the steps they're going to take to achieve it."
Q: What targets did you set John Sheridan when you appointed him?
A: "He set his own. He'd worked out what he felt he could do, the budget he felt he needed and - rightly or wrongly - we told him the budget that we had got allocated which was quite a lot higher so maybe we should have kept quiet on that!
"The first job was to rebuild confidence and to avoid relegation and the second part was to get us out of the league in the right direction and start climbing towards the Championship.
Q: There was a spell this season when the club went seven games without a win. Did you get tetchy at that point? Were you having thoughts of changing the manager?
A: "John is passionate and for John, drawing a match is a disaster. He's not someone who wants to avoid losing, he's someone who insists on winning
"He's always been very clear that to be a good manager you have to avoid getting too excited when you're winning and too depressed when you're losing.
"If you look at the greatest success stories its people who have been given time to build a team, a squad, a youth set-up and so on. It's absolutely ridiculous that someone in post for 12 months is in the top half of the league table of football managers."
Q: When John Sheridan brings a name of a player he'd like to sign to you, how does the process work?
A: "John and his coaching team and then Martin Starnes and Jason Turner work it out. We have identified the positions that John thinks we need to strengthen in and they say we'd like to go for 'x' at a cost of 'y' over a period of 'z'.
"I ask them really simple questions like 'have you got the budget for it?' and they've always got the answers. I've never said no to any requests."
Q: When look back at previous decisions you've taken do you have a sense of satisfaction about decisions that have gone right?
A: "I genuinely don't because if you do that you get bitten on the bum the next time around.
"Every day of the week I make a huge number of errors - its the way of the world if you make a lot of decisions. If you get seven out of 10 decisions right and you manage the other three well then you'll be successful.
"But if you try to get every single decision right you'll end up taking no decisions or very few decisions because with decisions come risk.
"It can be costly but not taking decisions can be even more costly. You can take a positive decision to do nothing because you think that's the best you can achieve - people in football are very, very frightened to that in a way that they're not in business.
"It's because if you don't take a decision to change the presumption is you're too frightened to do anything but in practice you've weighed things up and there's lower risk in doing nothing."
Q: What's the future for Plymouth Argyle?
A: "I've been criticised before but I think if you start the season and don't have an aspiration to get promoted then you should go and do something else because it's all about winning and delivering success.
"While we're in League Two our principal aspiration will be to get to League One, then to Championship."