FA's Nicolas Anelka 'anti-semitism row' probe concerns Kick It Out
Last updated on .From the section West Brom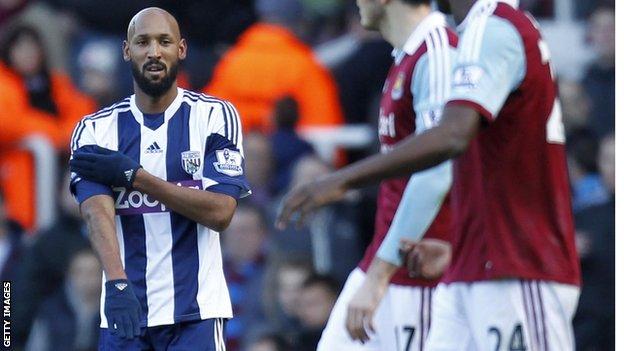 The Kick It Out anti-racism campaign has criticised the Football Association for the time the governing body is taking to respond to an allegedly anti-semitic gesture made by Nicolas Anelka.
The FA said on 10 January that it would respond on 20 January.
But Kick It Out said it was "very frustrated" by the FA's timeframe.
Frenchman Anelka, 34, has vowed not to repeat the sign, which he insisted on Twitter was made purely to support the controversial comedian Dieudonne M'bala M'bala.
The French government, whose Sports Minister Valerie Fourneyron described the gesture as "anti-semitic", has tried to ban the performer from making the sign at his shows.
Kick It Out said that since it reported Anelka to the FA: "There [was] total silence from the FA until 10 January.
"The FA then stated that an appointed expert was aiding [its] investigation and there would be no further update until 20 January at the earliest.
"While an investigation is being undertaken, it is protocol for Kick It Out not to comment on matters which might prejudice the outcome and be unfair to any party or individual involved in this process.
"Kick It Out, like others, is very frustrated at the length of time taken to investigate this issue and, as usual, has taken criticism, particularly from community organisations, who feel deeply and rightly aggrieved by the gesture and want to know why the campaign has not made more of a public condemnatory statement of Anelka's actions.
"While Kick It Out can and is prepared to be condemnatory, where it is appropriate, it strives to ensure that it works to counter the prejudices which lead to discrimination and hatred. The campaign will certainly make known its comments on this case at the conclusion of the FA's investigation."