Forest Green Rovers: Lighting failure frustrates Adrian Pennock
Last updated on .From the section Forest Green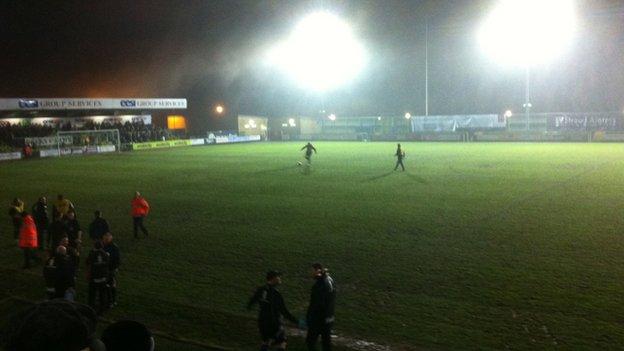 Forest Green boss Adrian Pennock fears his side's form will stall if their fixtures continue to be called off.
While Pennock agreed with the decision, it follows the postponement of matches against Salisbury and Aldershot earlier this month.
"I'm frustrated by the stop-start situation, we need to get that momentum going," he told BBC Gloucestershire.
"It was a really good tempo out there between two good, honest teams and it's a shame for everyone that it couldn't carry on. I was really enjoying it.
"It's just a shame it got called off, but I totally understand where the ref is coming from."
Forest Green have completed just one game in 2014, a 1-1 draw against Hereford on Saturday.
Having the lights go out at the New Lawn will also impact Pennock's squad, with Dale Bennett suspended.
However, they also benefit from defenders Chris Stokes (hamstring), Jared Hodgkiss (shin) and Keiran Forbes all recovering (foot) from injury.
"This game doesn't count for Dale's suspension, so there will be a knock on from that," Pennock continued. "This stop-start is really a pain in the backside to be honest.
"Chris has joined a couple of sessions. We are not forcing him or rushing him back or anything like that, but with all these games getting called off it gives him time to come back."
Pennock also hopes to extend Jerome Binnom-Williams's loan deal from Crystal Palace beyond this month.
Rovers' fixture chaos has restricted the defender, 18, to one appearance so far.
"In the game and a half he has played, he has done well," said Pennock. "I've been really pleased with him - he is a good, cracking lad, he works hard in training and has got a great attitude."