Scotland defender Rachel Corsie signs for Notts County

By Heather Dewar
BBC Scotland
Last updated on .From the section Football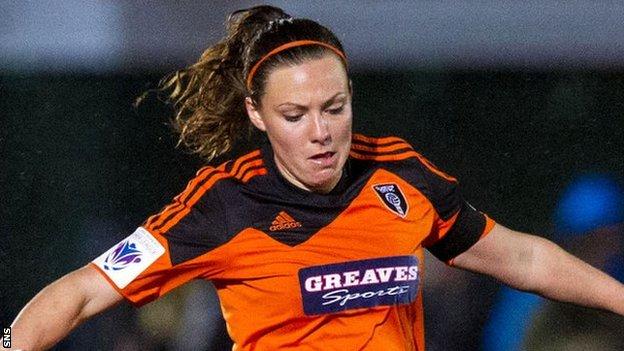 Scotland defender Rachel Corsie has signed a one-year contract with English Super League club Notts County.
The 24-year-old has played for Scottish champions Glasgow City for more than five years.
Corsie attracted interest from Manchester City and Liverpool but says finally putting pen to paper with County is "hugely exciting".
"Playing at the top level in England is something I've always been looking to do," she told BBC Scotland.
"And County have the same ambitions as me. It's a place I feel I can improve at and grow my footballing career and I can't wait to get started."
County are a new Super League name for the coming season, having
As Lincoln Ladies, they finished in sixth place in the eight-strong division last season.
In order to meet the criteria for England's revamped top tier, they had to have a partnership with a men's club or similar institution.
The decision to move 35 miles to Meadow Lane was a controversial one with many of the club's fans, but Corsie said that playing in the same stadium as the men was a "big thing" in making her decision.
Corsie, who joined Glasgow from Aberdeen Ladies in 2008 and has 53 Scotland caps, said she was attracted to County's determination to promote the women's game and a drive for success that has led to a raft of new signings.
She becomes County's second signing of the week, 25-year-old New Zealand vice-captain and midfielder Katie Hoyle having agreed a deal to leave Australian outfit Melbourne Victory.
County have also from Kansas City, and England goalkeeper Carly Telford from Chelsea.
They join a squad that also contains England striker Jess Clarke and international defender Sophie Bradley.
Corsie, who enjoyed a treble success with Glasgow last season, is eyeing a top-two finish this season.
"On a personal note, it would also be nice to get some silverware here," she said.
"My biggest goal, however, is working on my game and helping the team become as good as we can."
County manager Rick Passmoor was delighted to help Corsie realise her ambition of playing full-time professional football.
"Rachel has shown her pedigree in Scotland and for the Scottish national team," he told his club website. "She is already a good player and she's shown that.
"Coming here to Notts County and training full-time will certainly help to develop Rachel as a player and it's great to be able to bring her here to Meadow Lane."
Glasgow have already gone some way to compensating for the anticipated loss of Corsie by signing two defenders - who was previously with Russian club Ryazan, and 18-year-old Fiona Brown from Celtic.
They have also recruited 15-year-old striker Alyshia Walker from their city rivals.