Southampton: Nicola Cortese replaced by owner as chairman

Last updated on .From the section Southampton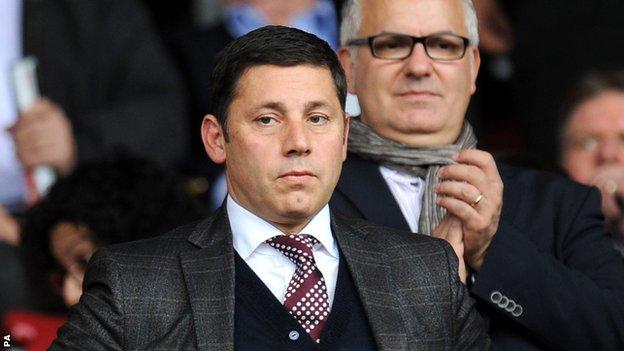 Southampton chairman Nicola Cortese has left his post at St Mary's, with club owner Katharina Liebherr installing herself as his replacement.
Cortese, 45, tendered his resignation in the autumn and has now departed.
Saints manager Mauricio Pochettino said last season he would leave the Premier League club if the Italian did.
Liebherr said: "With great regret we have accepted the resignation of Mr Cortese. He has done a wonderful job and we very much wanted him to stay."
Cortese has, at times, polarised opinion at Southampton but was a key figure in their rise from League One to the Premier League in less than four years.
Following his departure, Liebherr has become non-executive chairman, with a chief executive officer to be appointed in due course.
"In the meantime, it is business as usual and we will ensure that the manager, the team and all the staff at the club have all the help and support they need," added Liebherr, who became a trustee of the club after the death of her father Markus in August 2010.
Cortese bought the club on behalf of the late wealthy Swiss investor in 2009, lifting the south-coast club out of administration.
When German-born Markus Liebherr died, the club said "well-laid plans" he and Cortese had mapped out would "continue to be implemented uninterrupted".
But Cortese, who disagrees with Katharina Liebherr's wish to sell the club, submitted his resignation almost three months ago, when Southampton were third in the Premier League.
The former Switzerland banker had already considered his position in May 2013, as he attempted to clarify the future position of the club - eventually deciding to stay after receiving the necessary assurances.
Pochettino, who is scheduled to attend his weekly news conference on Thursday, said at the time that he too would leave if Cortese went.
"I would not understand staying in this role if Nicola was not here," the 41-year-old said. "The person who actually called me from the start, told me about the project and put the faith in me was Nicola."
Cortese replaced former boss Nigel Adkins with former Argentina defender Pochettino in January 2013, when the Saints were three points clear of the relegation zone.
Pochettino guided them to safety and they are currently ninth in the top flight with 21 games played.