Chelsea v Man Utd: What if United had chosen Jose Mourinho?

By Phil McNulty
Chief football writer
Last updated on .From the section Football521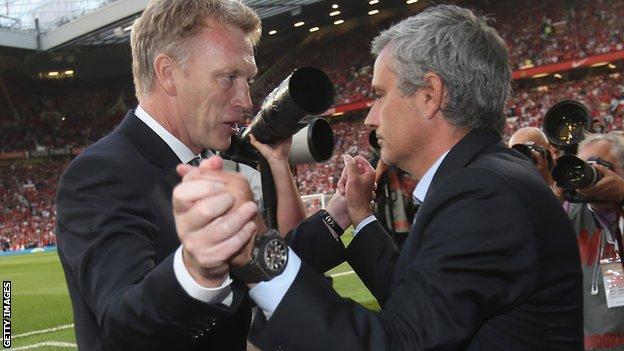 When Manchester United were plotting the line of succession to Sir Alex Ferguson, it was the Scot himself who had the casting vote.
The two men touted - albeit briefly - were managers who find themselves in opposition at Stamford Bridge on Sunday when United meet Chelsea.
Ferguson went in favour of his fellow Scot David Moyes when many thought United might go for the more combustible, but also far more successful, Jose Mourinho.
The Portuguese had a cordial relationship with Ferguson and many observers viewed his lavish and over-generous tribute to United when Real Madrid knocked them out of the Champions League in March as part of a public pitch to Old Trafford for the day a vacancy arose.
Moyes, despite being from the other side of the Clyde in Partick while Ferguson was a proud son of Govan, was seen as a manager and personality in the image and likeness of the man who had ruled Old Trafford for 26 years.
Chelsea provided Mourinho's next destination while Moyes was left with the task of following Ferguson. Mourinho's return to Stamford Bridge has been smoother than Moyes's bumpy initiation at Old Trafford.
While Moyes has the full backing of United's board and the majority of fans, their meeting on Sunday begs the question about what Mourinho may have brought to Old Trafford.
If the two 50-year-olds were presidential candidates, Mourinho would have been travelling on the "quick-fix, even quicker success" ticket while Moyes offered stability and security, the "safe hands" option.
Mourinho was almost a guarantee of trophies while Moyes moved into Ferguson's Carrington office without a top-level trophy to his name.
Moyes was given a six-year contract while the idea of Mourinho staying in one place for that term might have seemed fanciful to United's board.
So what might Manchester United have looked like under Mourinho? Would he have thrown out the old and brought in the new any quicker than Moyes has done? The answer might be surprising.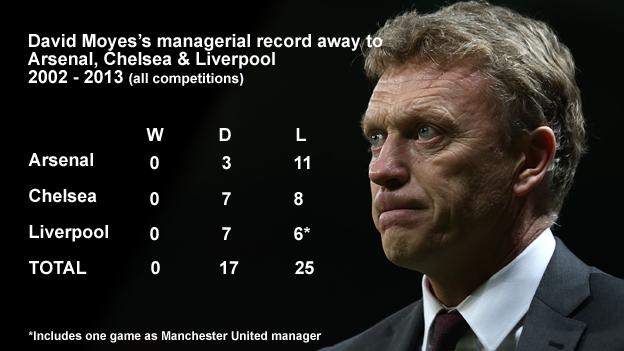 In contrast to his previous reputation, Mourinho has spoken about a long-term vision from the moment he walked back into Chelsea and a desire to work with younger players while making careful additions - not necessarily in the free-spending manner of the previous Roman Abramovich era.
There were even suggestions that, apart from his contentious image, his pragmatic, albeit highly successful approach, might lose something against the swagger and attacking style that was the Ferguson trademark.
Mourinho, however, has shown a willingness to be flexible and showcase creative talents. Spanish midfielder Juan Mata may have been marginalised but Belgian forward Eden Hazard and Brazilian duo Oscar and Willian have all made key contributions.
Moyes was always Ferguson and United's preferred choice - but the evidence presented so far this season suggests some of the reservations that could have been harboured about Mourinho taking the United job may not be justified.
Former Scotland winger and BBC pundit Pat Nevin agrees but still believes Moyes was the correct choice as Ferguson's successor - a view he held for years.
He told BBC Sport: "What I didn't know then but what I do know now is that Jose was ready for the big, long-term challenge of his career.
"Had it been Manchester United, and I should stress I think Moyes is the right choice, I think he would have given them the time. That is what I feel from having spoken to Mourinho. It would not have been a short-term fix.
"He'd done all that traipsing about Europe, two years here and three years there. I think he was ready to build something. United might have got someone to give them five to 10 years - but they might not have known that beforehand.
"They would have got a total adaptation of the team over time. I don't think he would have moved incredibly quickly. Whether he would have done it any quicker than David, I don't know. Chelsea had a younger, more talented squad than United."
Nevin is convinced of one thing. Whatever club Mourinho would have joined after Real Madrid, whether it was Chelsea, United or any other of Europe's elite, he believes they could have banked on one thing - success.
"I'd be a liar to say anything else but I do think he is the only manager in world football who just about guarantees trophies," said Nevin. "There is nothing certain in this life but the closest you can get in football is Jose Mourinho."
One aspect of life at Old Trafford that would have appealed to Mourinho would have been working with Wayne Rooney, the England striker who was the subject of so much interest from Chelsea last summer.
Rooney was the player Mourinho coveted above all on his return to Chelsea but was met with a wall of resistance from United and new manager Moyes, who simply refused to countenance a sale of such an asset, let alone to a Premier League rival.
Moyes handled the Rooney situation, regarded by many as a "hospital pass" from the retired Ferguson, superbly and has been rewarded with some outstanding performances this season.
Nevin is in no doubt what United have got by appointing Moyes and resisting any temptation to go for the more decorated Mourinho.
The former Chelsea forward added: "David gives certainty and security. With Jose you think you have got that - you may well have it at this stage of his career - but with David you know for sure and that's what United went for.
"The United board would say they know David Moyes will be here for six years. With Jose they might say they think he'll be here for six years but they're not quite sure. There is a subtle difference."
United were not swayed by Mourinho's proven track record of success, albeit in short bursts at clubs, and this is one area where Moyes has to prove himself a worthy successor to Ferguson and a serious rival to the man at Stamford Bridge.
Any assessment of Moyes's previous work must be framed in the context that it was at Everton, never title challengers and never in possession of the sort of budget enjoyed by United, Chelsea, Arsenal, Liverpool, Tottenham and Manchester City.
But Moyes's record of never winning a league game at United, Chelsea, Arsenal or Liverpool in 11 years at Goodison Park was a scar on his record - one made even more painful by his Everton successor Roberto Martinez putting that right against him in 90 minutes at Old Trafford this season.
Moyes must prove he can fight and beat the big hitters home and away on a regular basis and this season has already brought defeats at Liverpool and Manchester City and a draw at home to Chelsea, although Arsenal were beaten at Old Trafford.
He will need to start improving a record against Mourinho that has no wins in nine matches, comprising five defeats and four draws.
Moyes has only won three games in 33 against Chelsea, including his time at Preston, with a win percentage of only 9.1%.
Against Ferguson, Mourinho and Arsenal boss Arsene Wenger he only won seven games out of 59, although one draw against United at Wembley led to a penalty shoot-out win in the 2009 FA Cup semi-final.
In Moyes's defence, he enjoyed much better fortunes against Manchester City, even after the big spending started, winning five out of 11 away games and winning 12 out of 22 overall with an excellent win percentage of 54.5%.
Moyes likened those games to "going into a gunfight with a knife" but he will know Sunday is a battle between two of the Premier League's big guns. United's history will not allow them to feel they face anyone on lesser terms.
There certainly seems no pining for Mourinho among United's fans and Nevin added: "David is still the man and he's strong enough to come through. It is not even an 'if'.
"The similarities to the tough times Sir Alex had when he went there are amazing but I am very, very comfortable with my view that he is the right man. I wouldn't even slightly judge him on this season because it isn't his team yet."
But Moyes himself will know that if he can finally overcome Mourinho - and let us remember Wenger is another without a win against "The Special One", it will amount to his most powerful statement yet as Manchester United manager.