Egypt climb 10 places in Fifa world rankings
Last updated on .From the section Football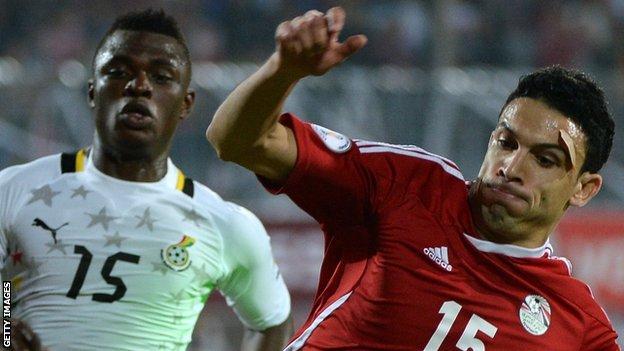 Egypt have made the biggest move of African sides in the first Fifa rankings of 2014, climbing 10 places to 31st in the world.
It means they are rated the fourth best team in Africa, usurping the continent's champions Nigeria, who slipped to seventh.
South Africa rose eight places to sit in 54th spot in the world, a move which saw them break into the African top 10.
Burkina Faso were the team to make way, dropping to 11th in the African list.
The movers benefitted from older results dropping in value in the four-year cycle of matches used for the calculations.
Elsewhere there was little movement as only 18 friendlies were played since December's rankings.
However, next month's ranking could shake up the order of the African sides as Fifa will include results from the African Nations Championship - a tournament for locally based players which is held in South Africa from 11 January to 1 February.
This year's finals features 16 clubs, including heavyweights Nigeria, Ghana and South Africa as well as minnows Mauritania.
Africa's top 10:
Previous month's rankings in brackets
1 (1). Ivory Coast
2 (2). Ghana
3 (3) . Algeria
4 (6). Egypt
5 (5). Cape Verde
6 (7). Mali
7 (4). Nigeria
8 (8). Tunisia
9 (9). Cameroon
10 (13). South Africa