Wales cap the incentive for Man City's Emyr Huws - Geraint Williams
Last updated on .From the section Football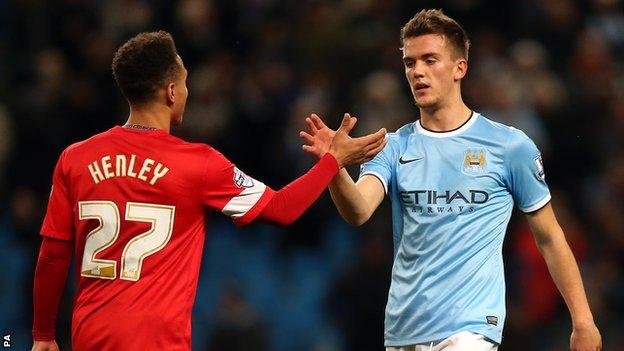 Wales Under-21 boss Geraint Williams has challenged Emyr Huws to continue the progress which earned him his senior debut for Manchester City.
Williams now hopes Huws can force himself into the Wales senior squad for the Euro 2016 qualifiers.
"It's fantastic for Emyr. I know how hard he's worked," Williams said.
Huws has won six Under-21 caps and was called up to the senior squad for the first time for last November's friendly against Finland.
Williams believes further call-ups will follow as senior boss Chris Coleman prepares for the Euro 2016 qualifiers which begin in September.
"All we want from Emyr is to keep working hard and keep his feet on the ground," Williams told Radio Wales Sport.
"He got called into the national squad and trained with very good players that are in and around there. That should be an incentive for him.
"Hopefully [he can] push his way through. It's not going to be easy because we've got a lot of good players when everyone's fit."
Llanelli-born Huws started his career as a youngster with Swansea City before joining Manchester City in 2009.
Huws has captained City's Under-21 side and spent a loan spell at League Two side Northampton Town last season.
Williams, the former Derby County midfielder who is Wales' intermediate teams manager, has been pleased with Huws' progress at Manchester City.
"He did struggle with injuries and had a bad run with injuries a couple of years ago and he's battled back really well," Williams added.
"For them to put him in their first team, at a club like that the way they're going at the moment, is a fantastic achievement."
"You can see there are some players who suddenly have a spurt and then they hit a plateau.
"Now it's up to Emyr to go back to the training ground, work hard at Manchester City and make his mark there."