Six-match gambling ban for Ayr United's Michael Moffat
Last updated on .From the section Football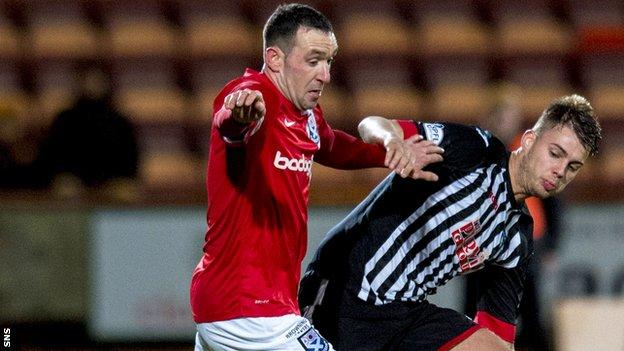 Ayr United striker Michael Moffat must serve a six-match ban for breaching football betting rules.
The 29-year-old, who was not fined, had been found guilty of placing seven bets on six matches involving his own team.
He was also found guilty of placing an additional 150 bets on other games.
The rule breaches regarding bets on the League One club took place between 3 August 2012 and 10 August 2013, with the others taking place between 19 February 2012 and 1 September 2013.
When the charges first surfaced, the Scottish Football Association stressed there was no evidence to suggest Moffat has been involved in match-fixing or influencing results.
Moffat broke disciplinary rule 33, which prohibits "[any] person under the jurisdiction of the Scottish FA [from] betting in any way on a football match (except authorised and registered football pools)".
Earlier this year, Rangers midfielder Ian Black was fined £7,500 and banned for 10 matches - of which seven were suspended - after admitting to gambling on 160 matches over a seven-year period, including betting against his own team on three occasions.