Kelly Youga calls for end to CAR violence
Last updated on .From the section Football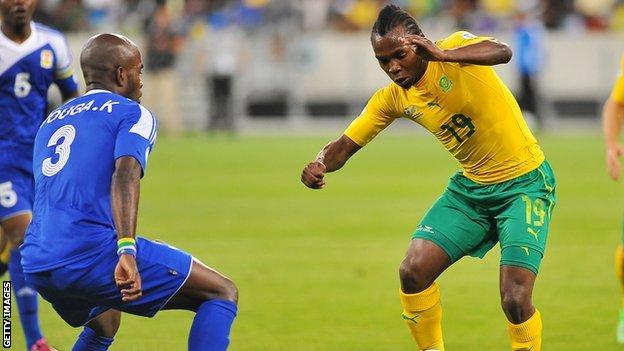 Central African Republic international Kelly Youga has called for an end to the sectarian violence in his country.
Youga was born in the country's capital Bangui, leaving to join the French club Olympique Lyon in 2004, and has played two international matches for his country.
As tension between Christian and Muslim militias in the Central African Republic continues, Youga has pleaded for calm.
"We need to be united. Muslim, Christian that's just religion and between us we need to put these things to one side and look to the future," the former Charlton and AFC Wimbledon defender told BBC Sport.
"The new generation of Central African kids are coming, we need to give them an example, we need role models. Politicians, artists and even football players, we need to work to develop our country."
According to the Red Cross over 125 people have been killed and about 100 others wounded as violent clashes continue.
"To be honest with you, I'm not that shocked," Youga added. "I think in Africa, especially in my country, there's war all the time. Since independence the country's in trouble. I really hope the people see we need peace and the country gets stabilised. I really hope so."
Although Youga still has family in the Central African Republic they remain safe, and the player himself is far from the troubles. Since leaving AFC Wimbledon he has been a free agent, living in France and training with Olympique Lyon.
Looking to the future, he believes that football has a part to play in helping to heal his country.
"Football is like the opium of the people. When we play at home there's no division - Muslim, Christian, different tribes they are all together to support the team," he said.
"And even the national team, we all come from different ethnic groups and we are all together, we are all brothers. Between us there is no division, we are all walking on the same path.
"And I really do think that football can help bring peace to the country."