Wrexham: Funds available for new players, says chief executive
Last updated on .From the section Wrexham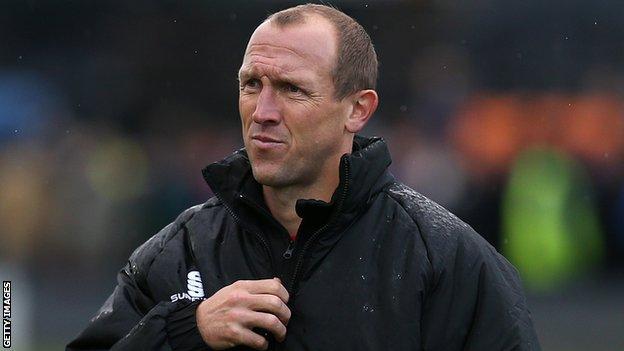 Wrexham chief executive Don Bircham has said there is money available for Andy Morrell to strengthen his squad.
Morrell is keen to strengthen Wrexham's defensive options.
"Andy has some money and it's now down to him spend that wisely and find the right people that can hopefully take us over the final hurdle," Bircham said.
"We've given him the funds from Adrian to reinvest [and] we've given him other funds to reinvest from players that have gone out on loan.
"We continue to support Andy and all of us know at Wrexham the number one objective is to get out of the league.
"We've supported him all the way through the season."
Cieslewicz has joined Conference Premier rivals Kidderminster after struggling to hold down a first team place with Dragons this season.
Bircham said the sale of the former Poland Under-19 international made sense for football and financial reasons.
"Myself and a great number of Wrexham fans will have mixed feelings about it," Bircham said of Cieslewicz's departure.
"An impact player, he did well for us for long periods during his time with us but not recently.
"He's certainly not been part of Andy's plans, either short or long-term.
"Therefore I thought it was right to look at him moving out and reinvest that money with only four months of his contract left.
"Kidderminster were keen and would have simply come in at the end of the season and had him for nothing.
"We've saved his wages, we'll reinvest those wages and Andy's on the case with that already and we've managed to secure a transfer fee."
Morrell has been left frustrated in his attempts to strengthen his side's defensive options with Hyde's Luke Ashworth rejecting a move to the Racecourse,
The 24-year-old former Wigan Athletic and Leyton Orient player has opted to remain part-time with the Conference Premier's bottom side.
"It was simply nothing to do with money," Bircham told BBC Radio Wales Sport.
"It was simply the fact the boy has a part-time job at Hyde and currently works with his father and his father needs some notice before he can fill that position I understand.
"We may rekindle interest in that one later in the year but that's only one piece of the jigsaw.
"Andy has a list he's working through and I'm sure he'll continue to make progress over the next few days."