Watford: Fitz Hall hopes to earn longer-term contract
Last updated on .From the section Football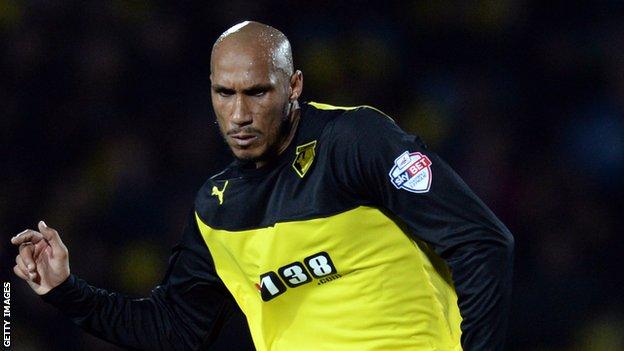 Watford defender Fitz Hall hopes to turn his short-term deal at Vicarage Road into a full-time contract.
The 33-year-old was released by the Hornets in the summer, but returned in November on month-by-month terms.
"First and foremost I want to play for Watford. It's not on my mind to leave," he told BBC Three Counties Radio.
"But if I don't get offered a longer term contract I'm not doing myself any harm by playing games and people watching me."
Hall signed for Watford in the summer of 2012 and played 28 times last season, but was not offered new terms at the end of the campaign.
He failed to find a new club and after training with the Championship side, was given a one-month contract in November, with the Hornets having suffered a series of injuries in defence, which was extended through to this month.
He has played three times under new boss Beppe Sannino, including Tuesday's 1-0 FA Cup win over Bristol City, which was only their second victory in 15 games.
"I couldn't agree a contract at the start of the season," said the former QPR centre-half.
"The offers I got were up north and I wasn't really willing to move up north. I was comfortable down here with my family.
"I asked Gianfranco Zola (Sannino's predecessor) if I could come in and train and keep fit. I proved that I was fit and they asked if I'd sign a month's contract."
Since agreeing that initial deal, Zola has been replaced by Sannino, but Hall remains confident of impressing the new boss.
He explained: "When I signed my month contract in January he said he has heard about me, that he was very happy to have me on board and he will judge me as he sees me. Hopefully I'm doing enough to impress him."