Why Luis Suarez is on course to make Premier League history
Last updated on .From the section Football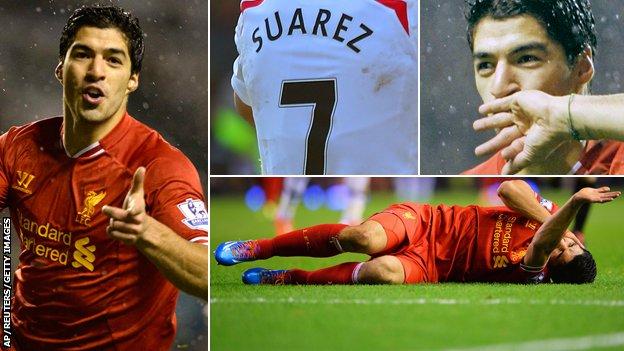 Luis Suarez, the most lethal striker in the land, continues his assault on the record books on Sunday as Liverpool look to maintain their title charge against Manchester United.
Despite only one goal in his last five matches, the Liverpool star is still the top flight's leading marksman, with 24 goals from 23 games, and there is far more to his game than just scoring.
Just as significantly, especially for his prolific Reds strike partner Daniel Sturridge, Suarez has made more goals than everybody else too.
Of Liverpool's 73 goals from 28 league games, Suarez has been involved in 34.
The 27-year-old has helped Brendan Rodgers's side become the highest-scoring team in England's top four divisions, and they have never scored as many at this stage of a season before in their 121-year history.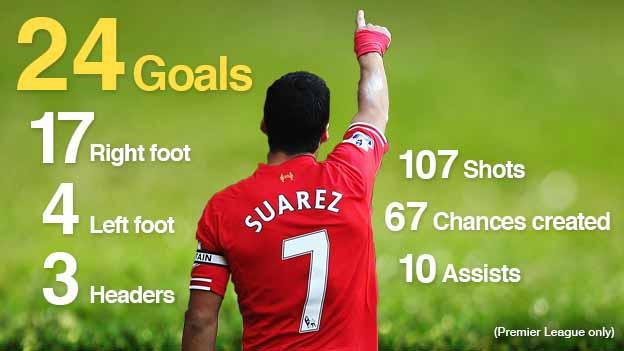 Those goals have turned the Reds into genuine title contenders. Only Chelsea are above them in the table.
Liverpool's prospects will be clearer after they have played their old rivals Manchester United. If the Reds are to continue to prosper, Suarez will surely have to play his part.
With the help of Ajax coach Frank de Boer, all-time Premier League record goalscorer Alan Shearer, and veteran Tottenham goalkeeper Brad Friedel, BBC Sport looks at why United might find it hard to keep him quiet.
Suarez the goal scorer
When Suarez returned from his ban for biting Chelsea's Branislav Ivanovic, he hit record-breaking form. By mid-January, he had scored an incredible 22 league goals in 16 games.
That personal purple patch did not last, and he has scored only two in his last seven league appearances, but he has still more than doubled his usual strike rate for the Reds.

Before this season, his scoring ratio of 0.49 meant he averaged a goal every two league matches. In 2013-14, that has rocketed to 1.04 - in other words, a goal every game.
With 10 games of the season left, if Suarez maintains that strike-rate, he will beat the 31-goal record held by Alan Shearer (1995-96) and Cristiano Ronaldo (2007-08) for most goals in a 38-game Premier League season.
He would also match the 34 goals that Shearer (1994-95) and Andrew Cole (1993-94) managed over a 42-game campaign.
As well as being on course to get the golden boot, Suarez can eclipse Ronaldo and Didier Drogba, who currently have the best goal-to-game ratio of any player who has scored more than 25 goals in a Premier League campaign.
Top goal-per-game ratios in Premier League

Player

Club

Season

Goals

Games

Ratio

Cristiano Ronaldo

Man Utd

07-08

31

34

0.91

Didier Drogba

Chelsea

09-10

29

32

0.91

Alan Shearer

Blackburn

95-96

31

35

0.89

Andrew Cole

Newcastle

93-94

34

40

0.85

Thierry Henry

Arsenal

05-06

27

32

0.84

Kevin Phillips

Sunderland

99-00

30

36

0.83

Alan Shearer

Blackburn

94-95

34

42

0.81

Thierry Henry

Arsenal

03-04

30

37

0.81

Wayne Rooney

Man Utd

09-10

26

32

0.81

Alan Shearer

Newcastle

96-97

25

31

0.81

*By players with 25 or more Premier League goals in one season.

Suarez has 24 goals from 23 games at a ratio of 1.04 goals per game
Suarez has not just scored the most goals. He has had more shots than any other Premier League striker this season, and has managed more on target, both by some distance.
Premier League 2013-14

Goals

Shots

Shots on target

1. Suarez (24)
1. Suarez (107)
1. Suarez (59)

2. Sturridge (18)

2. Giroud (65)

2. Aguero (35)

3. Aguero (15)

3. Rooney (62)

3. Sturridge (33)

Stats: Opta
"Suarez is having an exceptional season but I don't think his form has been a surprise," Shearer told BBC Sport. "I don't think anybody ever doubted his ability.
"But a striker cannot do it on his own. This season he is playing with better players who are creating more chances for him.
"It is also down to him feeling at home and feeling wanted by everyone.
"The reaction he got at the beginning of the season, when the Liverpool fans did not turn on him after what he said about wanting to leave the club in the summer, showed how much they still appreciated him, which has helped."
Suarez the goal maker
Suarez has not managed figures like this since his time at Ajax, when his best campaign saw him score 35 goals in 33 league games in 2009-10.
It is easy to see why he has scored so many: individually, all of his shooting statistics have gone up, not just the one that shows he took 23 games to beat the total of 23 goals he managed in 33 matches last season.
Luis Suarez in the Premier League

Season

2010-11

2011-12

2012-13

2013-14

Games played

13

31

33

23

Goals

4

11

23

24

Minutes

1,102

2,556

2,955

2,064

Minutes per goal

276

232

128

86

Goals (inside box)

4

10

18

17

Goals (outside box)

0

1

5

7

Total shots

47

108

143

107

Minutes per shot

23

23

20

19.3

Shots on target

23

48

72

59

Shot conversion rate

9%

10%

16%

22.4%

Shooting accuracy

49%

44%

50%

55.1%

Assists

3

3

5

10

Chances created

25

64

90

67

Goals involved in

7

14

28

34

Stats: Opta
We are seeing an end product in other areas too. Despite his willingness to shoot from every angle, you could never call Suarez greedy.
He has menaced defences with his dribbling skills and eye for a killer pass since his arrival at Anfield but not to this level - in 2013-14, he has already contributed more assists and been involved in more goals than ever before.
Premier League 2013-14

Assists

Chances created

Goals involved in

1. Suarez (10)

1. Hazard (79)

1. Suarez (34)

2. Rooney (10)

=2. Suarez (67)

2. Sturridge (23)

3. Gerrard (9)

=2. Silva (67)

3. Rooney (21)

Stats: Opta
"In some ways this kind of improvement is normal," said Ajax coach De Boer, who sold Suarez to Liverpool for £23m in January 2011. "He needed to get used to his team-mates, to the league and to the country.
"He is playing at a higher level of club football now than he did with us and, with better defenders against him, he had to improve. He has done that.
"Suddenly Luis has got the right feeling of how he wants to receive the ball and his team-mates know how to use him better. I think that is the main reason for his form.
"His dribbling skills have got better since he left Ajax but he could always score - we knew that a long time ago. And it is unbelievable how much energy he gives to the team."
Most assists in a single Premier League season

Player

Season

Assists

1. Thierry Henry (Arsenal)

2002-03

20

2. Frank Lampard (Chelsea)

2004-05

18

3. Cesc Fabregas (Arsenal)

2007-08

17

Stats: Opta
It means that, even when Suarez is not among the goals, he still has an impact.
Cole is the only player to top the goalscoring and assist charts in the same season, scoring 34 goals and managing 13 assists in 1993-94. Suarez could match that this campaign.
Since Sturridge returned from an ankle injury to lead the Liverpool attack in a 2-2 draw against Aston Villa on 18 January, Suarez has been shifted out to the flanks.
In the seven league games that have followed, Sturridge, as the central striker, has hit eight goals while Liverpool as a team have scored 21.
Suarez has only scored twice, but also weighed in with five assists and created 17 chances. He has also had 31 shots.
"He can create, score with either foot and his head and score spectacular goals too," Shearer added. "It is his all-round game that makes him different to every other Premier League striker."

Determination and innovation
Suarez's character is regularly criticised, but it actually has a positive effect on his performances.
His will to win is often used to explain away the less savoury aspects of his game, including allegations of diving, but it also fires a fierce determination to maximise his talents.
De Boer recalls thinking Suarez had reached the peak of his powers in Amsterdam, only for the player to prove him wrong.
"I was often surprised," the former Netherlands defender said. "I still do not know exactly what he is capable of because whenever he seemed to have reached his level, he would perform even better.
"I think that is down to his mentality. When you work with him like I did, you see what he brings to training each day, and the spirit he has. He always wanted to play and give 100%, even when he had just got back from South America."
On top of his work-rate, it is Suarez's imagination that has impressed Spurs goalkeeper Friedel.
The American compares the striker's form to that of Ronaldo when he starred for Manchester United in 2007-08.
"Ronaldo was an example of how the very top players go through spells when they are unstoppable," Friedel said. "He was a player who was always coming up with something new, and exactly the same applies to Suarez now.
"You look at Suarez and the goals he has scored and some of them have been incredible, like his header from the edge of the area against West Brom in October.
"I am not sure how many other players would have taken that on. He saw something nobody else did, tried it, and it came off."
So how good is he?
It is probably a little early to compare Suarez to Ballon d'Or winner Ronaldo, now at Real Madrid, and Barcelona's Lionel Messi as Liverpool captain Steven Gerrard did in December - albeit he was only talking about current form, and said his team-mate was "getting close".
Yes, Suarez starred for Uruguay on a global stage, when they reached the semi-finals of the 2010 World Cup, and at continental level in winning the Copa America in 2011, but he has played just 11 times in the Champions League.
"He has to show it at the highest level, and the Champions League is the next step," said De Boer. "Messi and Ronaldo have proved it a lot of years in a row. If he does that, he will be near to them."
Some claim Suarez is on course to become the Premier League's greatest ever striker, but how does his record compare to the top flight's other all-time leading scorers at the same stage?
Shearer leads the way, with 79 goals from his first 100 appearances, compared with Suarez's 62.
Longevity and consistency, however, are clearly the over-riding factors in deciding who the real legends are.
And it should only take a glance at the way the goals have dried up for Suarez's predecessor as a darling of the Kop, Fernando Torres, to temper predictions of what the Uruguayan might go on to achieve.
Torres, now at Chelsea, managed 63 goals in his first 100 Premier League games for the Reds but has hit just 21 in the 104 that have followed.
What happens next?
The worst nightmare for Liverpool fans would be seeing Suarez leave in the summer, and the reality is his bumper new contract might not prevent that if the Reds again fail to qualify for the Champions League.
While a run of seven wins and two draws from their last nine games has some fans daring to dream that their 24-year wait for the title could soon be over, their first target has to be to secure a top-four or, preferably, top-three place.
Even that might not be enough to keep Suarez happy for long.

"As a player, Luis wants to win titles," De Boer said. "I am looking at his situation from the outside but to me it is like Robin van Persie when he was at Arsenal.
"Van Persie had a great time there but he wanted to win things too, and he did that in his first year at Manchester United.
"It is the same with Luis. This year Liverpool are still trying to be champions and hopefully for them they can win the title and he will stay. But if they do not make the Champions League, he might have to consider what to do next."