Ayr United appeal against Michael Moffat gambling ban
Last updated on .From the section Football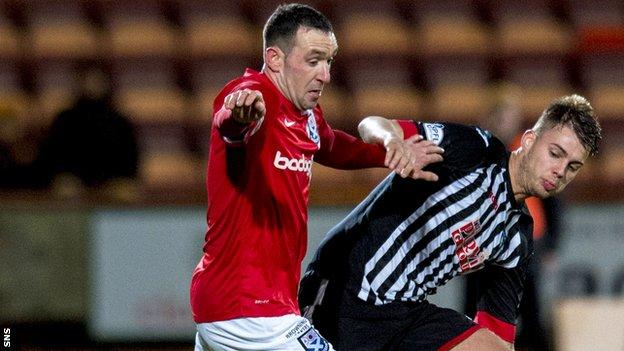 Ayr United will appeal against Michael Moffat's six-match ban for breaching betting rules, chairman Lachlan Cameron having said it was "grossly unfair".
He was also found guilty of placing an additional 150 bets on other games.
Ayr said in a website statement that they do "not take gambling lightly" but claimed "there are inconsistencies in the decision-making process".
"We will be appealing under rule 14.8.4 that states 'the sanction(s) imposed by the tribunal was excessive or inappropriate'," the Scottish League One club said when explaining the basis for their appeal to the Scottish FA.
"We feel that we have a legitimate case here and look forward to the chance to reverse the decision and have it replaced by a much more appropriate sanction."
The rule breaches regarding bets on the League One club took place between 3 August 2012 and 10 August 2013, with the others taking place between 19 February 2012 and 1 September 2013.
When the charges first emerged, the SFA stressed there was no evidence to suggest Moffat has been involved in match-fixing or influencing results.
Moffat broke disciplinary rule 33, which prohibits "[any] person under the jurisdiction of the Scottish FA [from] betting in any way on a football match (except authorised and registered football pools)".
Earlier this year, Rangers midfielder Ian Black was fined £7,500 and banned for 10 matches - of which seven were suspended - after admitting to gambling on 160 matches over a seven-year period, including betting against his own team on three occasions.
"Ian Black effectively got a three-game ban and was accused, charged and I believe, found guilty of betting against his own team," Cameron told BBC Scotland.
"I look at it and compare that to the Ian Black case again and Ian gets a three-game suspension.
"I'm not so sure that his disciplinary record would hold up very well versus Michael Moffat's.
"We were very disappointed and our view is that it was grossly unfair to have received the suspension he received."
Cameron said, before formulating their response, Ayr had to weigh up whether they had a reasonable ground for an appeal, a chance of success, whether it was morally or ethically right to appeal, the affect on the player and the rest of the squad of dragging out the case and the possibility that the SFA might increase the player's ban.
"It was determined after much debate that we have no option but to appeal based on these questions," added Ayr's statement.