World Cup and Winter Olympics being wrongly targeted - Blatter
Last updated on .From the section Football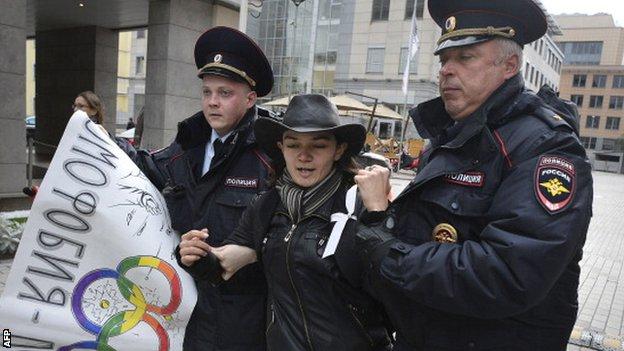 Fifa president Sepp Blatter says the World Cup and the Winter Olympics are being "misused" by protest groups.
The 2014 World Cup will take place in Brazil from 12 June while the Winter Olympics will be held in the Russian city of Sochi from 6 February.
Blatter said: "2014 marks a year of celebration in the sporting world."
In his Fifa Weekly column, he added: "These two events have one thing in common: they have both been misused as a platform for political disputes."
In 2013, the Confederations Cup was held in Brazil amid mass demonstrations in the country.
Those protests were sparked by transport fare rises, but quickly began to encompass a range of other issues - including the costs of staging the World Cup, allegations of political corruption and demands for better health and education facilities.
Meanwhile, Sochi's hosting of the Winter Olympics has led to calls for a boycott in order to highlight concerns over Russia's human rights record.
However, Blatter believes that such a boycott would fail to achieve its goals.
"In the case of the Winter Olympics, this dispute is coming to a head with threats to boycott the Games," he wrote.
"Such a boycott would change nothing. On the contrary, it may be interpreted as a refusal to establish a dialogue on the issue, as was the case with boycotts of the Olympic Games in Moscow in 1980 or in Los Angeles in 1984."
Sochi will also be a host venue when the World Cup comes to Russia for the first time in 2018.
The Black Sea coast resort is one of 11 cities that will stage matches during the tournament.