Chris Powell: Charlton Athletic boss waits on club direction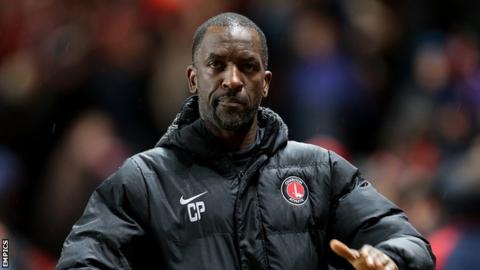 Charlton Athletic manager Chris Powell says he is yet to find out what direction the club will take following Roland Duchatelet's takeover.
Belgian businessman Duchatelet completed his buy-out of the Addicks at the start of the month.
"They are respectful and want to know what I would like to do," Powell told BBC London 94.9.
"I am trying to build a relationship with them and that is always something that happens when new people come in."
He added "I don't know them and they don't know me but we have got on well so far. It will be an ongoing process.
"I am hoping they will be able to help me."
Duchatelet's company, Staprix NV, owns five other clubs around Europe including Belgian sides Standard Liege and STVV, Hungarian outfit Ujpest and German club Carl Zeiss Jena.
Since taking over Charlton, Duchatelet has also bought Spanish Segunda Division side AD Alcorcon.
"It is early days yet," Powell said.
"I have got to know exactly where they see us and what they want to do with us. I want that to be all positive because I think we deserve it as a football club.
"It is something I have to find out from them and I want that to be crystal clear."
Powell is out of contract at the end of this season while many of his first-team squad are also awaiting new deals.
The 44-year-old admitted his own future is uncertain earlier this month while an overhaul of the playing staff is possible following Duchatelet's purchase of the Championship side.
Two players, midfielder Astrid Ajdarevic and goalkeeper Yohann Thuram-Ulien, have already arrived on loan from Liege. Powell says the current lack of new deals for backroom staff could unsettle his players.
"There is that aspect to it," Powell said.
"No doubt the players are thinking 'I could re-sign but then the manager may not be here. Do I sign?'
"I am sure they are asking those questions. I have been there. In that mix is agents and advisors saying 'we can go here or there'.
"We are very vulnerable.
"There are issues with individuals, players and staff and if they were resolved earlier, no doubt we would be looking at a real lift for the football club. We will get on with it because it is my job to do that.
"But you want to give the players their direction and the supporters, more importantly.
"We are looking to retain our status [in the Championship] and making sure we do that with all what is going on off the field."
Duchatelet has appointed former Charlton chairman Richard Murray as non-executive chairman while Katrien Meire, who has worked at Liege, has been appointed onto the board.
Powell says he will speak to "a number of people" about the running of the club.
"Roland, I will speak to on the phone and email, more often than not," Powell said.
"He is based in Belgium. We will see him at games but not too often.
"We have a number of people here that have worked with him in Belgium that will be working with the club. Richard will be a real good conduit for me.
"We will just have to get our heads around a new structure of dealing with things. I have spoken to Katrien, who has come in from Belgium, and will be speaking with her on a regular basis to link it all up with Roland."