Shrewsbury Town: Graham Turner says he is feeling the pressure
Last updated on .From the section Football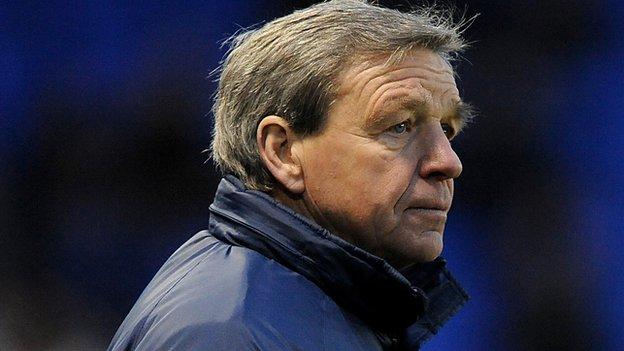 Shrewsbury Town manager Graham Turner admits that he is feeling the pressure, after his relegation-threatened side's untimely slump in form.
Town conceded all three goals inside the first 21 minutes as the big-spending Millers took them apart.
"You see 20 minutes like that and the more the pressure rises," said Turner.
He told BBC Radio Shropshire: "We'll have to see what the next few days and next few weeks bring.
"We've got to make sure that we are still a First Division club next season. That's got to be the objective of everybody,"
Shrewsbury are struggling to compete with the bigger spenders in League One.
After spending a fruitless week on the phone, it summed up Turner's current plight when Saturday's opponents Rotherham signed a couple of players and could afford to have them both sat on the bench.
In contrast, injury-ravaged Town boss Turner had to put two players on his bench - defenders Darren Jones and Jermaine Grandison - who were not fully fit to play.
And, despite being so severely stretched, 29-year-old Jones, who had just five months left on his contract, was let go by Shrewsbury on Monday afternoon after coming to a mutual agreement with the club.
In addition, having seen his main target Chris Dagnall sign for leaders Leyton Orient, and then come off the bench to win his team the game at Crewe on Saturday, Turner knows that he now needs to make a new signing or two, before the January window closes.
"That would certainly help," he said. "You need the lift a couple of new faces, preferably with experience, would give us.
"We've worked hard at it and nobody has appeared yet.
"They've got a choice. And they want to be at the right end of the table."
But, at a time of mounting criticism from disgruntled home fans, 65-year-old Turner - English football's longest-serving manager - admits that he is feeling under pressure in his most trying time since returning to Shropshire in June 2010.
"I don't think there's any doubt about that, the longer you go without a victory," he said.
"You can understand people being upset. And, as the manager, you take full responsibility of what goes on on the pitch."
Town's poor home form is in contrast to their record on the road.
Prior to last weekend's narrow 3-2 defeat at MK Dons, they had picked up seven points out of a possible nine away from home.
"It does defy belief, as this stadium used to be such a fortress for us," said Turner.
"We've had a good defensive record up until these last two games where we've conceded six goals. But you can't concede the sort of goals that we did against Rotherham.
"I can understand us getting uptight on the ball when you're 3-0 down, as you lose a little bit of confidence.
"But in the first 25 minutes of the second half, the crowd got behind the players, we upped the tempo and we looked like we would cause them some problems.
"And the one positive was performance of Ryan Woods, who never gave up, and, given the circumstances, was outstanding."