Rangers: Ally McCoist backs players who refused pay cut
Last updated on .From the section Rangers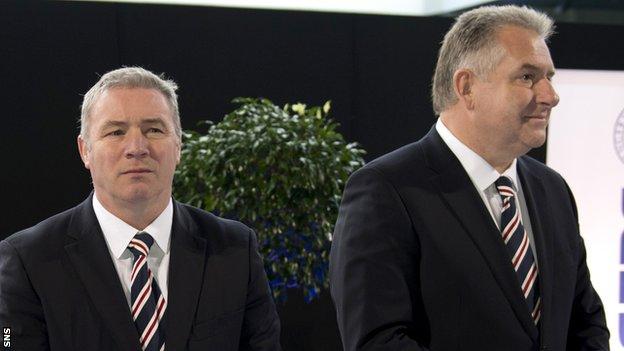 Rangers manager Ally McCoist has backed his players after they
Chief executive Graham Wallace proposed the idea on Thursday as he seeks to cut costs at the club, who reported losses of £14.4m for the 13 months to July.
"I can assure everyone that the players have my 100% backing," McCoist said at a media conference.
And the Rangers boss stressed that the players were not the ones to blame for the club's ongoing financial woes.
McCoist, who recently with the League One leaders, said: "I have been categorically assured that there will not be another administration.
"On a positive note, Graham has indicated that he is extremely positive about the club's position mid-to-long term, but obviously his concerns are short term."
Wallace launched his cost-cutting exercise after taking over in November following the departure of Craig Mather resulting from a campaign against the club's board from a group of shareholders.
"I don't know who is responsible, but I do know who is not responsible and that's the players and supporters, who have given us two years of 36,000 season tickets," said McCoist.
"I have my own ideas about who is responsible, but I would rather keep them to myself."
McCoist insists he does not regret signing nine new players in the summer.
He sanctioned deals for goalkeepers Cammy Bell and Steve Simonsen, defenders Steven Smith, Ricky Foster and Bilel Mohsni, midfield men Nicky Law and Arnold Peralta, as well as Jon Daly and Nicky Clark, but he claims Rangers have a smaller wage budget than last year.
"I have no regrets," he said. "The fact of the matter is that I was given an option to bring players into the club, which I was more than willing to do, at the same time as bringing the budget down again.
"So I have a disappointment and a regret if the club is now suffering from that. But effectively there is nothing that myself or the players can do about it.
"If we had known about it, it might not have happened.
"But the fact we didn't have a clue about it means we can rest a bit easier about it. If I was told the club would suffer if I brought these players in then I wouldn't have brought them in."
McCoist met with captain Lee McCulloch and Wallace to discuss the cost-cutting proposal earlier this week but the Ibrox boss was not present as the players voted down the plan.
"I was absolutely consulted with the idea of that proposal," admitted the manager. "I didn't say I supported it, I didn't say I didn't support it.
"Why not? Because I don't think that is my business to be honest with you. That is a cost-cutting exercise that is up for debate.
"But, in my reading of the situation, it is not me directly who makes the decisions, so I have to go by the people who make those decisions."
McCoist revealed he asked Wallace if the club's directors would make a similar gesture to his own 50% pay cut.
"I certainly asked him that question at the top level and was told that was something that was being looked at," he said.
Wallace admitted last month that the cost base would be unsustainable even in Scotland's top flight and this week told McCoist he must cut his playing budget.
McCoist added: "Graham has not indicated to me that players will need to be sold.
"He has gone on record and I know the severity of the situation, but there has absolutely been no specifics about how those cuts will be made."
After McCoist spoke to the media, Rangers announced they had dropped one player off their wage bill, with Northern Ireland Under-21 midfielder Andy Mitchell leaving Ibrox by "mutual consent".
The 21-year-old made eight appearances for Rangers, the last of which was in their League Cup defeat by Forfar in August, and returned from a loan spell at Annan Athletic last month.