Dundee United: McNamara protective of Gauld & Souttar

Last updated on .From the section Dundee Utd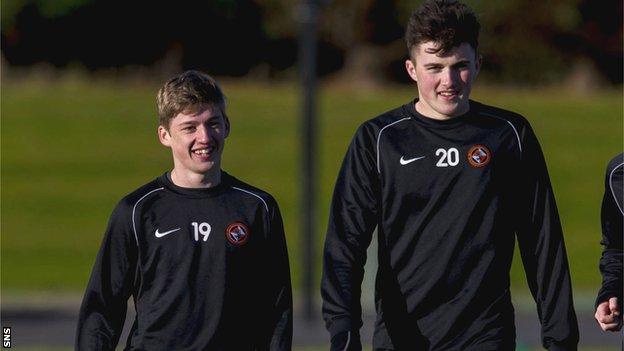 Jackie McNamara says he sent Dundee United pair Ryan Gauld and John Souttar on a winter break to protect their future development.
McNamara praised their "incredible" displays since establishing themselves in the first team at Tannadice.
"It's important to look after them," said the United boss.
"We've asked a lot of them over the last couple of months. They're still growing, they're still young boys."
Gauld and Souttar were both given a winter break which will see them miss Saturday's trip to Ross County after McNamara advised the duo to take a sunshine holiday.
Both have been the subject of transfer speculation, with Gauld in particular making headlines for a string of quality displays, but McNamara is guarding against player burnout.
"I think now they've played more games for our first team than they have for our under 20's," said McNamara.
"The last few games I've seen a bit if tiredness in them so I just thought one week away, take them out this week and hopefully they'll be refreshed and ready for the second half of the season."
McNamara compared the situation with his own start in the professional game and remains wary of too much media attention or the lure of lucrative deals with bigger clubs.
"I look at my own career and I was a lot older," said McNamara. "I made my debut at 19.
"John was 16, Ryan a 17-year-old and they haven't played a lot of reserve football. They haven't played a lot of football at senior level and to have come in and produced what they have for us has been incredible.
"The speculation with the window opening - every week there's been bits and bobs in the papers and you know as much as we try to play it all down and protect them, they are just young boys.
"They've no experience of anything like this before so I think it's great that as a club we can look after them.
"I think the parents will see that we're protecting them and looking after their long term interests.
"It's my duty to look after them and to manage them.
"I don't want to burn them out, I want to see them playing every week like everybody else, because they're special."
With the second half of the season under way, McNamara felt it important for the in-form duo to rest.
"I thought that it was a good time to take them out and let them take stock of what's happened to them in the last six months," McNamara added.