Jose Mourinho's Wayne Rooney claim wrong - David Moyes
Last updated on .From the section Man Utd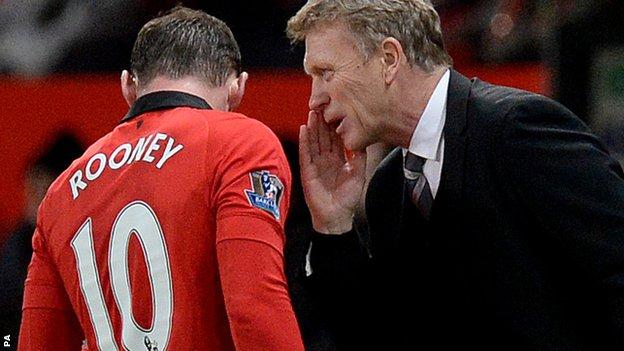 David Moyes says Jose Mourinho is wrong to suggest that Manchester United will try to sell Wayne Rooney this summer.
"United made it clear they don't swap or sell players to direct rivals," said the Portuguese. "Maybe this summer they will try sell to a non-direct rival."
But United manager Moyes said: "I completely disagree."
The Scot added: "The club do the right things, there is no doubt about that. We'll make sure we do the things we need to do."
When asked if he was disappointed by Mourinho's comments, Moyes replied: "I wouldn't do it but everybody has their own style.
"I wouldn't talk about other managers or players at other clubs."
Chelsea host United in the Premier League on Sunday but 28-year-old Rooney, whose contract expires in 2015, will miss the game as he continues to recover from a groin injury.
The forward, who joined United from Everton in August 2004, is fourth-highest goalscorer in the club's history.
Meanwhile, Moyes, who succeeded Sir Alex Ferguson last summer, has received an apology from Chelsea over comments made by Mourinho claiming that all was not well at United.
The Chelsea manager told London's Evening Standard: "My feeling, which is based on years of communicating with Sir Alex and some inside information, is Man United are not happy."
Moyes said: "I've seen it and had an apology from him and his department."