Leighton Baines: Everton contract is priority - Roberto Martinez
Last updated on .From the section Football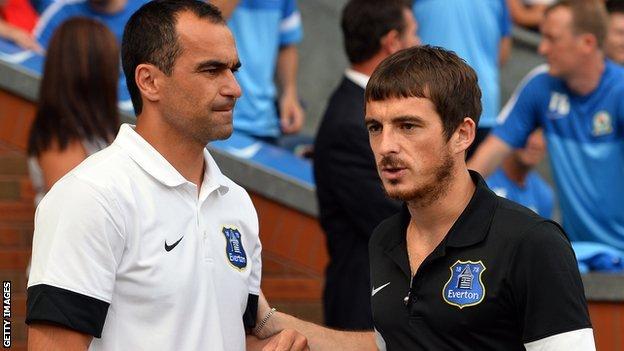 Everton manager Roberto Martinez is keen for England left-back Leighton Baines to quickly sign a new deal.
Baines, 29, is expected to sign a new long-term contract with the Toffees, thought to be worth £75,000 per week.
"Clearly the situation of Leighton Baines is a priority because of the length of his contract," Martinez said.
"He has got 18 months left on his deal and we need to solve that to make sure one of the biggest icons we have at the club stays here for as long possible."
Baines joined Everton for £6m in August 2007 and the Goodison Park club's former manager, David Moyes, twice failed to take the defender to Manchester United last summer.
"The situation is very clear," Martinez told BBC Radio 5 live's Sportsweek programme.
"Leighton Baines is more than a footballer for us. He is in the best moment of his career and one of the best left-backs in European football.
"He represents more than being a player for Everton, he is an icon for us.
"When you get a player like that you want to keep him at the club and we are going to do everything that we can to try to do that."