Man Utd: 'Reality bites' for David Moyes after defeat at Chelsea

By Phil McNulty
Chief football writer
Last updated on .From the section Premier League1008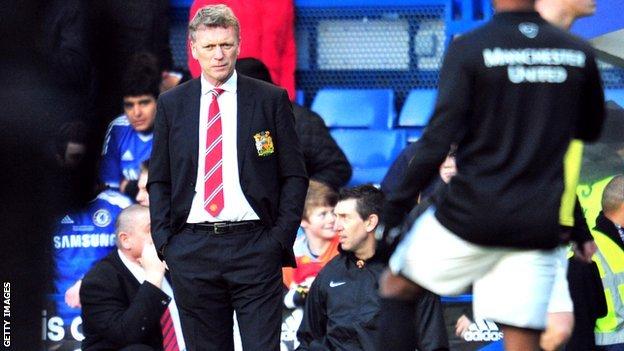 David Moyes made all the right noises and pulled all the brave faces - but he was fooling nobody by declining to call time on Manchester United's title challenge.
No talk of throwing in the towel or taking aim at anything less than top spot from United's manager as Moyes continues to endure a tough initiation in succession to Sir Alex Ferguson.
Stamford Bridge, however, was where it all ended. Chelsea's 3-1 win cut United adrift of Premier League leaders Arsenal by 14 points and they are hardly closer to Manchester City or the team who beat them in relative comfort on Sunday.
Moyes was never going to concede defeat, despite the mounting evidence, but there will be no 21st title for Manchester United this season and the Scot faces a major rebuilding project before another will come into view.
United, in a manner reminiscent of Moyes's many fruitless visits to Stamford Bridge during his 11 years at Everton, hinted very briefly at getting something while there was an ominous inevitability that they would get nothing.
And so it proved. This is why it is time to adjust the sights and focus on claiming a top-four place in the Premier League as the best this season has to offer.
United have lost seven out of 22 Premier League games. This is not an unflattering reflection on a side that are now reduced to the ranks rather than leading from the front, the position they made their own on so many occasions.
Reality has hit the "Theatre Of Dreams" and the cold blast feels even worse when Chelsea do not even have to go near their highest gear to take the three points.
A broad smile played across the face of Chelsea owner Roman Abramovich watching from his private box at Stamford Bridge, and with good reason. He has Jose Mourinho back and the old adversary no longer has Ferguson and it shows.
Mourinho attempted to kill United with kindness - and kill them he did by pointing out that, while they may claw back one of Arsenal, Manchester City or Chelsea, it would take capitulation by all three for United to have a sniff of the title.
On current form, that is not going to happen, either via a sudden upsurge in United or from teams and squads who look better equipped, better balanced and more confident than Moyes's.
And when Mourinho added that he hoped United would finish in the top four after beating the teams around Chelsea, it only acted as another pinch of salt on the wounds. He may not have meant it this way, but there was almost pity in his tone.
Moyes was clutching at straws when he suggested United did well enough except in both penalty boxes. This would be splendid news if goals were not scored and conceded in those two rather crucial areas.
In mitigation, it should be stressed that Moyes was without Wayne Rooney and Robin van Persie, two players who might have made better use of United's short early superiority than Ashley Young and Danny Welbeck.
Adnan Januzaj demonstrated why so many hopes for the future are pinned on him but United must get Rooney and Van Persie back in short order if this squad is to even have the appearance of one that can reach the top four.
For all the loss of those two pivotal players, the concern for Moyes is that it was dreadful defending (or "terrible" to use his own word) from Manchester United that was at the root of their downfall.
Nemanja Vidic no longer has the intimidating presence of old, although he did not deserve a red card for a challenge on Eden Hazard that was unwise but surely only a yellow. This once formidable figure no longer inspires fear in the opposition and his vulnerability is shared by others.
Rio Ferdinand's United career is also coming to a close, while Patrice Evra went off injured and none of Jonny Evans, Phil Jones or Chris Smalling have inspired complete confidence as replacements for the old pairing.
United's midfield has long been a bone of contention and, once again, Chelsea had little or no trouble dealing with them. There is a lack of class, creation and authority that can be seen in abundance at Chelsea, Manchester City and Arsenal.
In attack Welbeck has his moments and Javier Hernandez is a poacher but the real business is done by Rooney and Van Persie. The hole left behind is gaping when they are missing, an absence that would be felt by any team.
Moyes must hope they are fit to somehow push United back towards the top four - especially as the likelihood of Rooney leaving Old Trafford will increase if they are not in the Champions League and such an eventuality will hardly appeal to Van Persie's sense of challenge.
Put simply, Moyes has work to do in all areas. Major work. And with every passing week it appears that Ferguson may just have demonstrated exquisite timing when knowing when to get out.
United still have the Champions League to keep them interested but they cannot be taken seriously as potential winners. The next job is to reach the Capital One Cup final and even that rests on turning around a 2-1 deficit against Sunderland in the semi-final second leg at Old Trafford on Wednesday.
Of course, January's transfer window may offer some respite and the chance to bolster his squad, but even here Moyes must exercise extreme caution.
United's summer transfer policy was a fiasco, with the £27.5m signing of Marouane Fellaini from Everton looking like an attempt to be seen to be doing something as opposed to recruiting a player essential to the future.
There could be opportunities, but Moyes may be wiser to keep his cash until summer rather than risk spending on a player that fits a short-term profile as opposed to the long term.
One thing is certain. United and Moyes face a defining summer in the transfer market when it comes to shaping a brighter future and demonstrating to their rivals they mean business.
Days and defeats like this, when Chelsea's squad looked so much more fit for purpose, should only act as a sharp jab in the ribs to United's hierarchy that the inertia of last summer - irrespective of the change of manager after the departure of such a towering personality in Ferguson - cannot be repeated.
Moyes is a fighter and wants the challenge that has been presented to him. He will not throw in the towel when it comes to the title. Can the same be said of United's players?