World Cup 2014: Lionel Messi and Sergio Aguero can shine in Brazil
By Tim Vickery
South American football writer
Last updated on .From the section Football539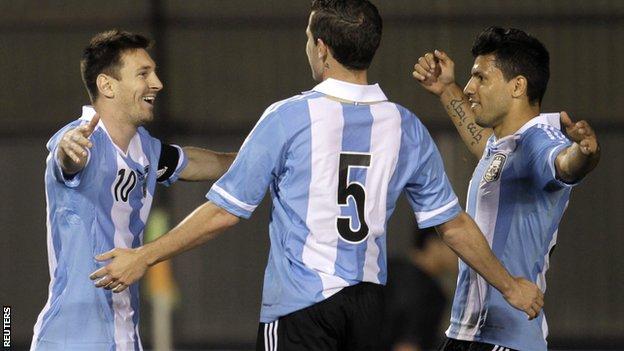 Federico Insua is one of those number 10 playmakers that Argentine football produces in such quantity.
With a nice left foot and a good range of passing he is an interesting player, although at 34 his best days are now behind him.
He was not quite good enough to impose himself on the European game - he had disappointing seasons in Spain, Germany and Turkey - but he has been a strong club player in Argentina, where he currently turns out for Velez Sarsfield.
And he was considered good enough to win a few international caps. All in all, he is a thoroughly inoffensive player - but even so I find it hard to forgive him because Insua robbed me of one of those perfect moments that football occasionally throws up.
I have often remarked the greatest pleasure in covering South American football is the opportunity to catch global stars on the way up, to have the privilege of a sneak preview of a youngster taking his first steps on the road to global stardom.
One of the most outstanding members of my club is Manchester City striker Sergio Aguero, who first came onto my radar screen exactly nine years ago - playing for Independiente in a pre-season tournament against San Lorenzo. I caught him on television while up in Colombia for the South American Under-20 Championship, where a certain Lionel Messi was making a name for himself.
I had heard of Aguero ever since he made his debut 18 months earlier just a few days past his 15th birthday. He had subsequently played a handful of games and scored a couple of goals. The fact he was getting games at such an age made me suspect he was one of those cases of prodigious physical development - a strapping adolescent six-footer. Of course, he was nothing of the kind.
What immediately stood out was his ability to combine. He was quickly involved, along with Insua, in a move that led to a goal, playing a quick one-two with the left-back.
And then there was his stocky build, acceleration and ability to work in reduced spaces, which helped set up another goal when his shot took a deflection.
This was certainly a player worth watching. An instant comparison cried out to be made; physically and technically there was a similarity with the outstanding Brazilian striker Romario, a point that was stressed by Aguero's coach, the great Cesar Luis Menotti.
The goals kept flowing in 2005. In the middle of the year he was called up for the World Youth Cup in Holland, where he roomed with Messi - the pair forging an understanding that was quickly recognisable on the pitch.
I wrote a piece on Aguero for a magazine, wondering if he might sneak into the senior squad for the World Cup in Germany in 2006.
He did not. But he was included for Argentina's first game after the tournament - a friendly against Brazil played at Arsenal's newly-opened Emirates Stadium at the beginning of September.
Twenty minutes into the second half he came off the bench to make his international debut. He had just joined Atletico Madrid. Insua had also left Independiente, first to Boca Juniors and then to Borussia Monchengladbach. But the pair still knew each other's game.
Aguero received the ball on the left side of the penalty area. He twisted, turned, and in the manner now familiar to Premier League defenders, saw and found space where none had appeared available. He dinked a delightful, subtle little chip across the face of goal which was sitting up and begging to be blasted into the back of the Brazilian net.
Insua had read the situation, and moved into position. He seemed sure to score a goal which no-one in the stadium would forget, least of all me, who had followed Aguero over the previous year and a half. But Insua snatched horribly at the shot, the ball looped apologetically wide and the perfect moment was lost.
This was a moment, though, that would have been special solely for its aesthetic beauty. After all, it was only a friendly, and Argentina were losing 2-0 at the time (Kaka would complete the scoring with a magnificent solo third).
One of the great hopes for the World Cup this summer is that Aguero can be involved in something of similar appeal at a moment when there is much more at stake. And, of course, this time his left-footed partner should be a little more reliable that Federico Insua.
Aguero and Barcelona playmaker Messi will be on opposing sides in the next phase of the Champions League, but come the World Cup their partnership will have its biggest opportunity to shine.
It is perhaps surprising that it took Argentina so long to build their attack around the Messi-Aguero combination. For years the water was muddied by a perceived need to accommodate Carlos Tevez.
Since his antics (moaning about his position and missing a vital penalty) in the 2011 Copa America, Tevez has been out. Argentina's originally ailing 2014 World Cup qualification campaign got its kick-start from the moment - at half-time away to Colombia - Aguero was introduced.
He and Messi transformed a 1-0 deficit into a 2-1 win, and there was no looking back. Some of their interpassing since then has taken place at such speed and finding such interesting angles that it makes one wonder if this is what it was like when Pele and Coutinho were working their one-twos with Santos in the early 60s.
If Messi and Aguero can produce something of that calibre in the land of Pele a few months from now then we really are in for a treat - some magic moments which will more than make up for the one ruined by Insua.
Send questions on South American football to vickerycolumn@hotmail.com and I'll pick out a couple for next week.
From last week's postbag:
From what I have seen of the South American teams of late, plus the results they have put together (Belgium 0 Columbia 2 for example), I predict an all-South American semi-finals - Brazil, Argentina, plus two from the others. Do you think it is possible? Bob Kippen
Maybe, but I think it's improbable. True, the draw has been very tough for the Europeans (in terms of climate for Germany and Italy, in terms of opposition for Spain). And the last World Cup highlighted the strength in depth of the contemporary South American national teams.
But it would be very foolish to write off the chances of the Europeans. Recent tournaments have shown the Europeans are strong if they can conciliate the globalised strength of their leagues with a cohesive identity for their national teams.