Norwich City: 'Hughton out' banner spurred us on, says Ryan Bennett
Last updated on .From the section Football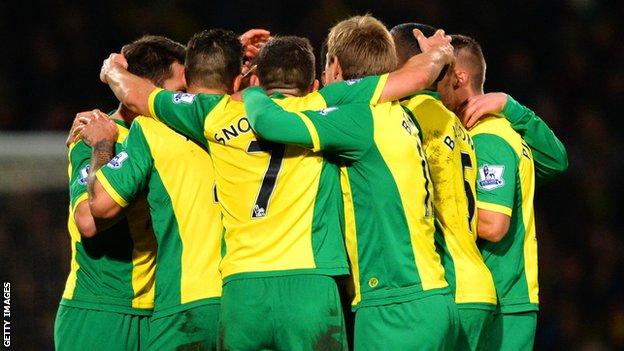 Norwich City defender Ryan Bennett says a banner calling for manager Chris Hughton to be sacked spurred on the players to
A banner reading "Hughton Out" was held up by supporters before Tuesday's
"We turned up for Fulham and there's a banner as we're getting off the coach," Bennett told BBC Radio Norfolk.
"There's no need for that. You see that and it spurs you on and you don't understand what they're thinking."
The 3-0 loss at Craven Cottage provoked an who were concerned with the club's form.
But victory over Hull ended a six-game run without a win in the Premier League and moved the Canaries up to 12th, five points clear of the relegation zone.
It also helped relieve the pressure on Hughton.
"The fans are entitled to their opinion whether we agree with it or not," said Bennett, whose 87th-minute header proved the difference at the weekend.
"But we went out there to do the best for the whole group, that's the staff and players.
"Hopefully people who are grumbling can start to relax and maybe get behind us a bit more."
Hughton's players joined together in a huddle after Bennett's winner, in what the 23-year-old said was a show of solidarity.
"We knew how big the game was. The lads are really close here," he added.
"We were getting some stick from the fans. Even at half-time there were a lot of grumbles.
"I think it's a solidarity we've got between ourselves. We wanted to get together, off the cuff at that time."