South Africa criticised by sports minister
Last updated on .From the section Football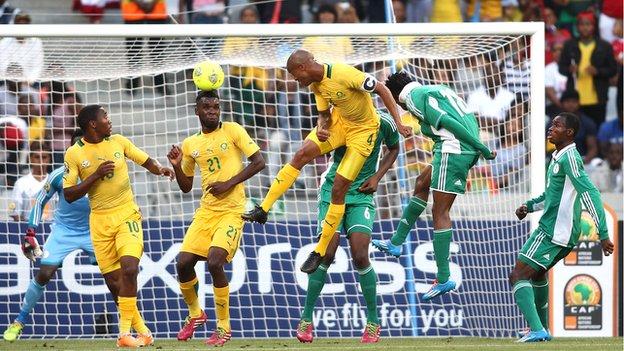 South Africa have been labelled "a bunch of losers'' by the country's sports minister after they were eliminated in the group stage of the African Nations Championship.
The hosts of the tournament for home-based players lost 3-1 to Nigeria on Sunday to suffer a humiliating exit.
"What I saw was not a problem of coaching, it was a bunch of losers," Fikile Mbalula told a news conference.
"That mediocrity that was displayed… we must never wake up to that again."
Bafana Bafana finished third in Group A, having lost to Nigeria, drawn with Mali and beaten only Mozambique.
Mbalula believes their failure to reach the knockout stage shows there are fundamental problems with the team.
"Their performance was not even lacklustre, it was useless. We must go back to the drawing board," he said.
"We indeed have a crisis of monumental proportions. We don't have a crisis of talent, we have a crisis of putting everything together.
"I felt like just standing up and walking out (the stadium). I saw people lining up after the game to greet them... I won't greet them, I didn't even call them.
"In Africa we have won nothing - we are the laughing stock. This generation of players we must forget."
South Africa failed to qualify for this year's World Cup in Brazil, and since 2008 they have only played at tournaments they have hosted, which include the 2010 World Cup.
"We aren't going to this year's World Cup. But Iran is going and yet there is no football there," added Mbalula.
"We hosted the Africa Cup of Nations in 2013 and could not get to the final. We also hosted CHAN and ended up going out in the group stages.
"If we were united we would have done our best and won CHAN by stopping the league for one month to concentrate on this."
South Africa coach Gordon Igesund conceded the team was not good enough, while midfielder Siphiwe Tshabalala made a public apology.
"It is honestly hurting,'' said Tshabalala, the man who scored the opening goal at the 2010 World Cup. "We are hurting and we know the nation is also hurting, and we are not proud of not doing well.''
South African Football Association (Safa) president Danny Jordaan has revealed there will be a major review of the national set-up.
"We have to agree we were dismissive and even insulting to the quality of football on the continent," Jordaan said.
He also indicated the team's Bafana Bafana nickname - a Zulu expression which translates as "the boys, the boys" - may be changed as part of a major overhaul.
"We must consider changing the name and we have to review the preparations, the philosophy and technical staff of the team," he said.
Safa has been keen to change the nickname for a while because it lost out on millions in marketing after a local entrepreneur registered the name as a trademark.