Orange cards proposed by Fifa candidate Jerome Champagne
Last updated on .From the section European Football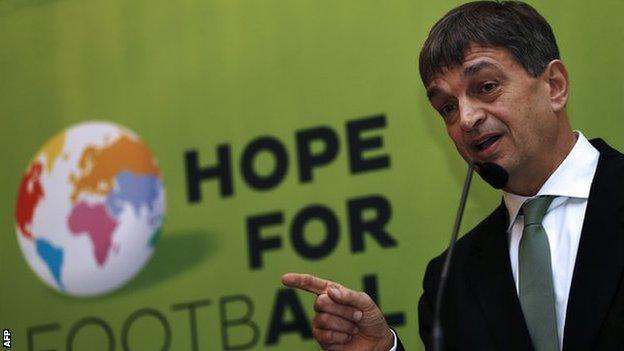 Fifa presidential candidate Jerome Champagne has suggested introducing orange cards that would allow referees to send players to a sin-bin.
The Frenchman, 55, launched his bid to succeed Sepp Blatter as the world governing body's president on Monday.
He also wants to punish teams when players question officials and hopes football will consider using more technology for key decisions.
Fifa's presidential election will be held in Zurich in June 2015.
His other proposals include:
Quotas for foreign players

Implementing rugby's rule where only the captain can talk to the referee with a free-kick advanced 10 yards for any dissent

Abolishing the 'triple punishment' rule where a player who prevents a goalscoring opportunity in the penalty areas concedes a spot-kick, is sent off and also suspended

All Fifa presidential candidates taking part in live debates on television and in front of the six continental confederations

Making public the salary of the Fifa president and leading officials
Former referees have mixed views on the proposals with George Courtney saying the introduction of sin-bins for orange cards would work but Roger Milford insisting it would make football "too dictatorial".
Courtney, who officiated in the 1986 and 1990 World Cups in Mexico and Italy, said: "It would have to be under the right criteria but I think the time has come to seriously consider sin-bins.
"I expect the international board would be considering them.
"Red-card offences should still be punished with a red card but maybe for some other offences it would work."
Champagne, who has been backed by Pele, announced his intentions to become football's most powerful man at a news conference in London.
"We need a different Fifa," he said. "More democratic, more respected, which behaves better and which does more."
However, he admits he will struggle to win the election if Blatter, who will be 78 in March, decides to stand for a fifth term in office.
Asked if he could beat Blatter, Champagne, a former diplomat, said: "I don't think so, he's someone of relevance."
He added: "I don't know whether Mr Blatter will run or not. Of course, as a matter of politeness I informed him what I was planning to do.
"I don't know what he will do. Some people say I am manipulated by him but I tell you 'no'. I stand because I believe in what I am saying."
Blatter has been re-elected three times since becoming president in 1998 but has not yet said whether he will stand again.
A former Fifa deputy general secretary, Champagne worked closely with Blatter between 2002 and 2005 before leaving the organisation in 2010.
Since then, he has been working as an international football consultant in troubled regions including Kosovo, Palestine and Israel and Cyprus.
Champagne suggests players could be sin-binned for two or three minutes for "in-between fouls committed in the heat of the moment".

He cited the example of a player who had already been booked then receiving a second yellow card for taking off his shirt to celebrate a goal.
Champagne also suggests allowing only team captains to approach a referee to question a decision and wants referees to be able to move the ball 10 yards further forward if a player is guilty of dissent.
"More often than ever, matches are being marred by unacceptable scenes of players surrounding and haranguing the referee," he wrote in a document first published in March 2013.
Brazil legend Pele, a three-time World Cup winner, said he supports Champagne's campaign.
"I cannot stay away from a debate which is so important for the future of football," he said in a recorded message shown at Monday's news conference. "Thus, I support Jerome Champagne and his vision."
Uefa president Michel Platini is also a possible candidate, although the former France midfielder has not yet declared his intentions.