Can Sepp Blatter be challenged as Fifa president?

By David Bond
BBC sports editor
Last updated on .From the section Football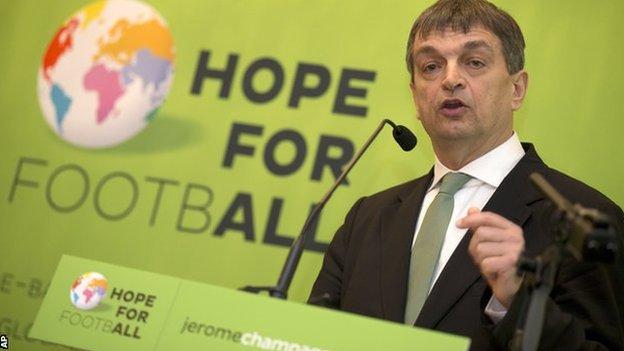 It wasn't the sort of admission someone makes when they are launching a campaign for the highest office in world football.
Asked if he could win the race to become the Fifa President in 2015 - should Sepp Blatter run again - former French diplomat Jerome Champagne replied with just one word.
"No."
At least we can add honesty to his CV.
But what else could he say? Even after 15 years in charge of world football Blatter shows no sign of losing his grip on the 209 national associations who choose the Fifa President.
Having told the world this would be his fourth and last term in 2011, all the mood music coming out of Zurich suggests the 77-year-old will run again.
And although Champagne - 22 years his junior - repeatedly refused to answer the question of whether he would pull out if Blatter does stand, it looks most likely he would.
All of which begs the question:
How on earth did we arrive at a situation where there is no credible, powerful figure from international football who is prepared to challenge Blatter?
The situation is all the more extraordinary when you consider just how discredited Fifa has become on Blatter's watch.
Michel Platini, the Uefa president, was widely seen as the natural heir to Sepp. But in recent times the Frenchman appears to have gone cold on the idea, more concerned with shoring up his power base at European football's governing body in Nyon.
Jeffrey Webb, the new head of the North American and Caribbean confederation (Concacaf) is now talked about as Blatter's anointed successor, but he will either wait until 2019 or step up half way through Blatter's fifth four-year term when he will be into his eighties.
And so for the time being, we will have to make do with Champagne, a personable, intelligent operator who definitely deserves respect in football's corridors of power.
He spent 11 years at Fifa, working his way up from an international advisor to deputy secretary general. Before that he worked in the French foreign service serving as a diplomat in Cuba, Los Angeles and Brazil.
He first emerged on the football as an advisor to Platini and the 1998 World Cup organising committee.
But he left Fifa in 2010 after falling out with Mohammed Bin Hammam, the former presidential candidate who was forced off the Fifa exco for offering bribes to Caribbean football officials during the controversial 2011 election race.
Since then he has been working as an independent consultant in the international game. His biggest recent triumph was to broker an agreement between Greece and Turkey on the difficult issue of football in Cyprus.
His election ticket is to "rebalance the game for the 21st century".
He argues that globalisation and commercialisation of football has led to a growing gulf between the rich and the poor. He believes it is Fifa's job to address those imbalances and make the professional game more equitable.
He also says national associations like the Football Association in England should have more of a say on the direction of the game - meaning a greater priority for international football over the multi-billion pound juggernaut of the club game.
All this is welcome - and actually echoes much of what Blatter has been saying for years. But he was unable to provide too much detail as he set out his bid at the Grand Connaught Rooms in central London - symbolically chosen as it is here that the first FA (the English one we all know and love) was born 150 years ago.
On some of the more difficult questions facing Fifa - namely what to do about the decision to award Qatar the 2022 World Cup in the searing summer heat - he toed the Fifa line.
It was right, he said, that Fifa was exploring moving the competition to the cooler temperatures of winter and it was also correct that New York lawyer Michael J Garcia is looking into allegations of corruption in the bidding process.
So what was the point in Monday's launch if he doesn't think he can win and won't commit firmly to stand against Blatter if, as expected, he does run?
Some observers speculated it was a carefully calculated pitch for a job back at Fifa. Champagne still lives in Zurich and has produced a series of blueprints on how to improve the game on and off the pitch.
Others wondered whether it was an attempt to smoke Blatter and other candidates out, to make them confirm they are standing.
Whatever the strategy, all that really matters over the next few months will be Blatter's decision.
As things stand, sources tell me he will most likely announce his candidacy ahead of the World Cup in Brazil in June. That would give him a year to firm up support, although even if he left it until the deadline of January 28 2015, it is unlikely he would lose.
The only question is whether his health and appetite for the punishing hours he devotes to the job are still there. Some at Zurich have been muttering that perhaps that is waning.
But we have been here many times before. And a bit like Germany at the World Cup, these presidential elections are about a few months of jockeying and posturing.
And then Blatter wins.