Crystal Palace have Europe's biggest squad, says new study
By Alistair Magowan
BBC Sport
Last updated on .From the section Football253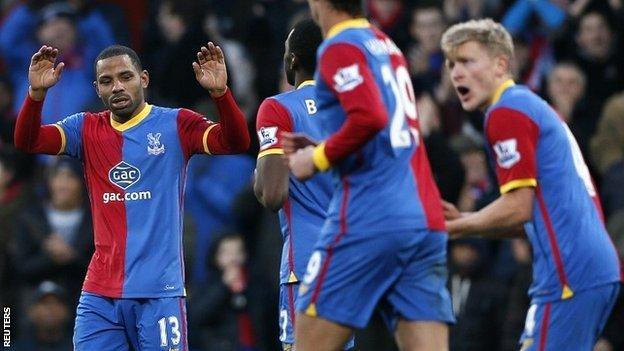 Crystal Palace have assembled the largest squad in Europe's top 31 divisions this term, a new study says.
The CIES Football Observatory has found that Palace have 34 players on their books who have played in this or the previous two seasons.
That outstrips Arsenal, Italian side Chievo and French team Ajaccio, who have 31 squad members.
Among several revealing insights, the study shows the movement of players in Europe has never been so high.
Palace were promoted to the Premier League last season and under chairman Steve Parish recruited 16 new players in the summer.
But they struggled for form with former manager Ian Holloway leaving the club in October and admitting: "We changed too much too quickly."
There is a 25-man squad limit for each team in the Premier League, meaning nine Palace players have not able to play for the club this season under new boss Tony Pulis.
Figures were taken for the research on 1 October 2013 with several Palace players, such as striker Kevin Phillips, leaving the club in January.
The study says of Palace's strategy: "This reflects poor strategic planning as many established professionals do not even have the right to participate in league games.
"This may prove detrimental for team spirit over the long term."
But Palace chairman Parish told BBC Sport: "This study is an anomaly. It is not saying we have the biggest squad, it is saying we have used the most number of players over the last few years.
"In 2010, we were in administration and missed out on Championship relegation and now we are in the Premier League, so given where we have come from, it is not surprising. We overachieved and we had to get a lot of new players in to refresh the squad.
"Some of the players will be from the academy, and we like to give players that opportunity - whereas other teams, such as Tottenham and Chelsea, have lots of young players who don't get anywhere near the first team.
"We have taken criticism for signing too many players, but in the Premier League you get injuries, players leave or a couple don't fit. And I suspect we have less players out on loan than other top Premier League clubs."
According to the study, Palace's predicament is typical in England with Premier League clubs assembling the largest squads in Europe, alongside Italy.
And despite the introduction of Financial Fair Play rules, player movement is replicated across Europe with new signings in 2013 accounting for 41.3% of squads across 31 top European divisions.
The percentage of foreign players in each league has hit a peak with 36.8% growing up in a different country to where they now work.
In addition, 60.4% of the Premier League's players are from foreign shores, a new high and the highest percentage of Europe's big five leagues in England, Spain, Germany, Italy and France.
The average stay at clubs for players is at a new low of 2.34 years.
Although there have been calls for Manchester United boss David Moyes to overhaul his squad, his team and Barcelona have bucked the trend.
They are the only two European clubs which offer players an average stay of more than five years.
"In general, the number of transfers carried out by teams during the current season is at an all-time high," said Raffaele Poli, the author of the CIES demographic study for 2014.
"It's a trend that is difficult to understand given the actual climate with its numerous financial difficulties."
The study highlights how the increase in player movement has come at a time when the number of academy-trained players in Europe's top leagues has reached a new low of 21.2%.
Chelsea are the club with the biggest number of internationally capped players in Europe and the Premier League has the highest percentage of active internationals (44.3%), 10% more than second-placed Germany.
The Scottish Premiership suffered the third biggest decrease in active international players and is down to 8.2%.
But Scotland has seen the second biggest climb in club-trained players, and is seventh overall in Europe.
Only top-flight leagues in Italy, Turkey, Russia, Portugal and Romania have fewer club-trained players than in England.
Eight of the bottom 30 clubs of the big five leagues are from the Premier League, including Chelsea who have one club-trained player in their squad of 25 - John Terry.
Arsenal have 10 club-trained players in their squad, the highest figure in the Premier League. Barcelona are the leading team in Europe with 64% of their players coming through their youth system.
France remains the most well represented nation in the Premier League, with Newcastle's Yohan Cabaye one of 49 French players in the top-flight.
But there has been an increase in Spanish nationals, with 33 now playing in England.