Paul Hartley leaving Alloa Athletic at the 'right time'
Last updated on .From the section Football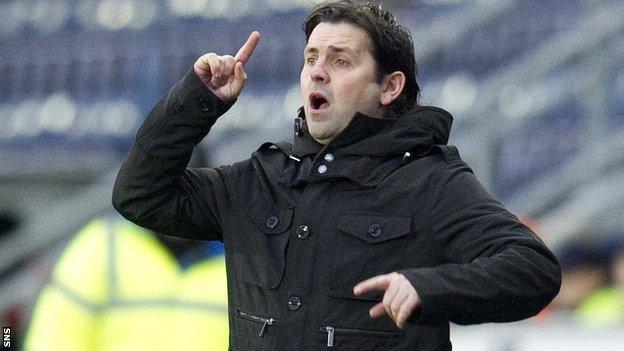 Paul Hartley insists his weekend departure from Alloa Athletic was the "right time" to leave.
came in the wake of by Dumbarton.
However, Hartley had led the Wasps to successive promotions and his decision to leave was somewhat of a surprise.
"I have had bad results, it was nothing to do with that result. It's something I've been thinking about," he told BBC Scotland's Sportsound.
"I was going to leave at the end of the season, but I just thought maybe this is the right time and hand over the reins to someone else.
"They can have a look at the squad and who they want to keep and who they want to offer contracts to.
"We have had great success over the last two-and-a-half years and it's time to move on. You just get that gut feeling and it came to me.
"We are still in touch of a play-off spot. We are only two points off the play-offs and in the last 16 of the Scottish Cup."
Alloa was Hartley's first managerial charge and he joined the club shortly after they had been relegated to the Scottish Third Division - now known as Scottish League Two.
They won the division in Hartley's debut season and reached this season's Championship via the promotion play-offs at the end of last term.
And he reflected: "I've left the club in a good footballing situation, I've got a great respect for the chairman [Mike Mulraney]
"We had a glass of wine on Saturday night after the game with the rest of the directors and spoke about the good times we've had together.
"It's not as if I've left on bad terms. We haven't - we've left on good terms after taking over the team in the Third Division with no players and taking them to the Championship."
Hartley insists he has not been approached about any potential new jobs but feels ready to manage in Scotland's top flight, having been considered for the Inverness job before missing out to John Hughes late last year.
"I definitely think I'm ready, but you have to be given that chance," he added.
"I think I've learned a lot over the two-and-a-half years. I'm a better manager, that's for sure.
"I've worked for two-and-a-half years at a part-time level, but I've really worked full-time.
"It's difficult when you are playing against teams that are mainly full-time.
"There comes a time when you definitely want to be working full-time in terms of the players every day and you want to challenge yourself and get to the next level."