Nicolas Anelka: FA charges West Brom striker over gesture
Last updated on .From the section Football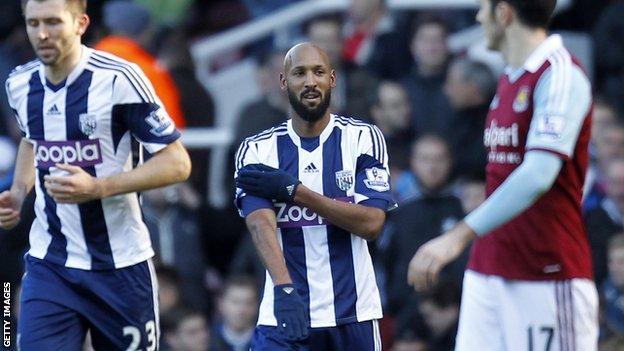 West Brom's Nicolas Anelka faces a minimum five-match ban if found guilty by the Football Association of making the controversial "quenelle" gesture.
The striker made the sign, described as an inverted Nazi salute, after scoring against West Ham on 28 December.
Anelka was given a 34-page document detailing the allegations and has until 18:00 GMT on Thursday to respond.
West Brom sponsor Zoopla will end its agreement with the club at the end of the season because of the incident.
The former France international used the "quenelle" the day after the French government announced it was trying to ban the shows of controversial comedian Dieudonne M'bala M'bala's, who is a friend of Anelka's and uses the gesture as a trademark.
France's Sport Minster Valerie Fourneyron accused Anelka of a "shocking and disgusting" act, saying "there was no place for anti-Semitism on the football field."
In a statement, the FA said it had charged the 34-year-old, who started Monday's draw with Everton, with making a gesture that was "abusive and/or indecent and/or insulting and/or improper".
It added it was "an aggravated breach in that it included a reference to ethnic origin and/or race and/or religion or belief".
The minimum suspension for the offence is five games, but the FA, who appointed an expert to help with its investigation, can increase that if they see fit.
"The player is now considering his options," West Brom said in a statement.
"Under FA rules, Anelka remains available for first-team selection until the disciplinary process has reached its conclusion. Following this, the club will conclude its own internal enquiry."
Anti-discrimination group Kick It Out also issued a statement, expressing frustration over the length of time it has taken the FA to act.
It claimed the governing body had "spent a longer time than desirable", adding that it hoped "this matter can now be quickly concluded".
Jewish groups had complained to France president Francois Hollande, describing the gesture as a "Nazi salute in reverse". They linked it to increasing anti-Semitic remarks and acts in the country.
Comedian Dieudonne has threatened to sue the groups for calling it a Nazi salute and says it stands for his anti-Zionist and anti-establishment views, rather than anti-Semitism.
However, a leading Jewish organisation, The Board of Deputies of British Jews, issued its own statement backing the FA.
"We support the FA in treating this incident seriously and we look to them to follow through with equal determination," it read.
"The board believes that any behaviour on or off the pitch with racist connotations should be addressed with zero tolerance and should be kicked out by the football authorities."
Alan Cleverley, secretary of the West Bromwich Albion Official Supporters' Club, said if Anelka is found guilty by the FA, he "deserves everything he gets".
He added: "You can't go on doing that. It sounds as if he did it on purpose because he knew the match was being shown live in France. So if the book gets thrown at him, I've got no sympathy whatsoever for him."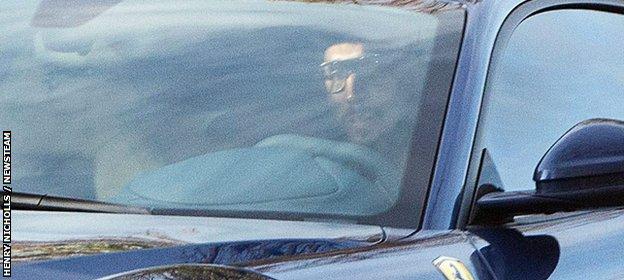 Anelka, who made the gesture after scoring in the 3-3 draw at Upton Park, has promised not to repeat the sign, which he said was made in support of Dieudonne.
If Anelka is found guilty and suspended, it would reduce the number of attacking options for new Baggies head coach Pepe Mel, who has already seen Shane Long move to Hull City in a £7m deal.