Rangers: Ally McCoist defends squad's four-star hotel stay
Last updated on .From the section Football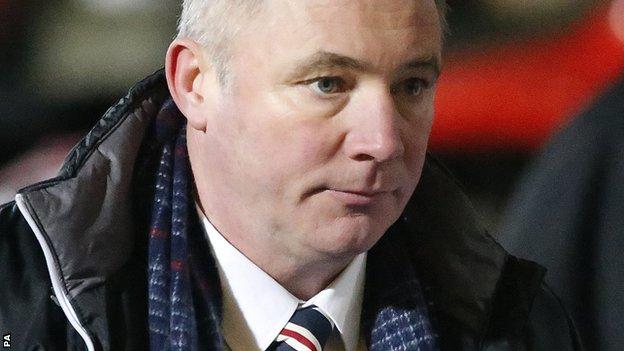 Rangers manager Ally McCoist has defended the club's decision to book his squad into a four-star hotel before their win at Forfar.
"I can understand people questioning it," said the Rangers boss, whose club reported losses of £14.4m for the 13 months to July.
"But it's my job to give our players the best opportunity to perform."
Chief executive Graham Wallace is aiming to reduce costs at the cash-strapped club and last week proposed a 15% wage cut for the playing staff, which they rejected.
McCoist, who recently accepted a 50% cut to his £825,000 salary with the League One leaders, backed his players' decision to reject the wage cut.
And he said the decision to stay at the hotel, which is approximately 95 miles from Ibrox Stadium, was simply a question of "preparing professionally".
"We are still Rangers Football Club and have always attempted to be as professional as we can," he said.
"That will never change as long as I'm manager.
"To give the players the opportunity to play as well as they can you have to prepare as well as you can. We will continue to do that until I'm told otherwise."