BBC Radio Ulster pundits predict close League Cup decider
Last updated on .From the section Football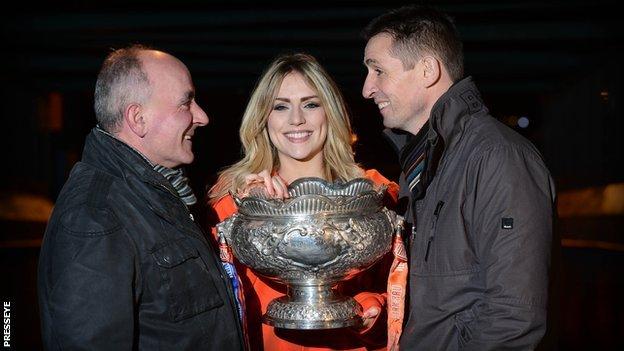 Regular Sportsound analysts, former Crusaders manager Roy Walker and ex-Cliftonville boss Marty Quinn, analyse the prospects for Saturday's League Cup final between the north Belfast rivals at Solitude.
Sportsound will provide live coverage of the decider at Solitude in a special programme from 17:00 GMT on BBC Radio Ulster.
Will the result of last year's final between the same two sides have any bearing on this year's decider?
Roy: Crusaders will certainly want to avoid a repeat of last season's 4-0 scoreline and manager Stephen Baxter will provide his players with a gentle reminder, to say the least, of how the game unfolded that day as a way of motivating his squad. Both teams are in good form and it's mostly the same players on show, so it's about who plays best on the day.
Marty: Stephen Baxter will have his players well up for it as they didn't turn up at all last year and were totally outplayed. He will have them well reminded of that and I expect it to be a much closer encounter this time.
Which players from the two teams have impressed you this season and who will be the key players in the final?
Roy: The stand-out player for Crusaders from an offensive point of view has been Paul Heatley. His introduction as a substitute, and that of Gary McCutcheon, changed the course of the semi-final against Ballymena and provided the springboard for victory. Paul has natural attributes, including pace and tenacity, and he is a goal-taker as well as a goal-maker. On current form, he is a real threat and the fact that things didn't work out for him as a player at Cliftonville and he was sent-off in last year's final offers him extra incentive.
From a defensive point of view, Paul Leeman provides bundles of experience and you can't underestimate the influence of that in a cup final. Despite winning all the trophies in the domestic game, he has retained a hunger for success.
From Cliftonville's perspective, Joe Gormley is the league's most potent predator, while his strike partner Liam Boyce floats about, has good touch and a good perspective - he sees things in the game that others don't. The Reds always do better when George McMullan is on the pitch - he really is 'Mr Versatile' and can fit into several positions. The skipper always seems to have a better than average game.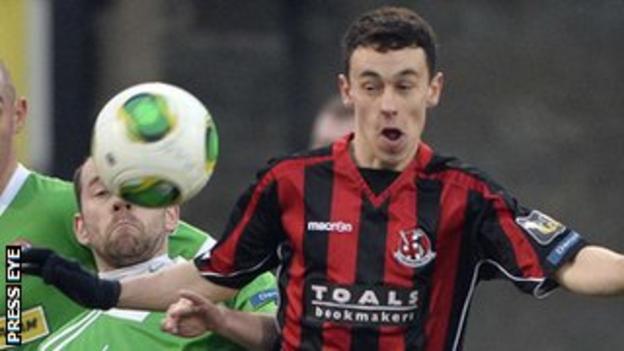 Marty: Both sides operate very much on a team ethos, but both have potential match-winners in their team. Joe Gormley is the obvious man to watch in the Cliftonville ranks, while Paul Heatley has been pulling the strings for Crusaders. The physical presence of Jordan Owens is always a big factor for the Crues and he seems to be the focal point for everything Stephen Baxter's side do in an attacking sense.
What will be the key battleground?
Roy: The match could be won and lost in the middle of the park where the battle between Crusaders pair Chris Morrow and Declan Caddell and Cliftonville duo Barry Johnston and Ryan Catney will be crucial. That could be the yardstick as to how the game unfolds.
Marty: On paper, the teams are evenly matched so it might come down to one individual mistake or a piece of individual brilliance. Both sides have a strong spine throughout their team - they have good goalkeepers and central defenders, creative midfielders and dangerous forwards.
How would you compare the approaches of the two managers and what tactics do you think they will employ?
Roy: Tommy Breslin always appears calm under pressure, he doesn't panic, and he has the ability to make a very objective, balanced assessment of a game. I know Stephen Baxter pretty well and he is very attacking in his outlook - he's a brave manager who isn't afraid to make big calls and backs his team, filling them with confidence.
Both bosses are positive and offensive in their approach and have the players to play that sort of game. They'll be taking the view that "if we play to our best, we can win".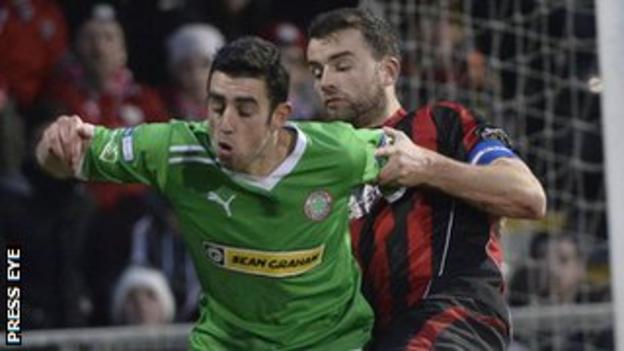 Marty: Tommy Breslin will emphasise to his players that they are the holders of the cup and will not want to let it go. He will want to draw on the experience of seeing his side get over the line to win the league championship in such style last year and a victory would put to bed any notion that they are 'one season wonders'.
Stephen Baxter will be keen that his squad make up for their humiliation in the final last year. Prior to that they had earned the tag of 'cup specialists' after winning the League Cup and Setanta Cup in 2012 and they will be keen to rebuild their reputation as the team to beat in knockout competitions.
How significant is the fact that Cliftonville have home advantage?
Roy: Obviously the fact that the game is being played at Solitude is an advantage to Cliftonville. It was a good toss to win and if the roles were reversed, you would have to fancy Crusaders as their home form has been so good in recent seasons. However, a match like this falls into the 'derby' category and the Crues fans will make plenty of noise. Both sets of supporters will create a good atmosphere.
Marty: It's a cup final and all the players should be up for it so I don't think it will make a huge difference. Both sides are used to playing on the artificial surface and because it's a cup final, there will be plenty of representation of both sets of supporters. If anything, I believe the surface at Solitude is slightly better than that at Seaview, so it may make for a better match.
Who will win?
Roy: It's very hard to call, but I think it will definitely be closer than last year. The psychological edge of getting the first goal will be important but I'll delay making a definite prediction until I see the two teamsheets, who starts and who will be on the bench.
Marty: It will be close but I think if Cliftonville raise the level of their game from recent weeks and perform as they can, they are capable of a narrow victory.