Nicolas Anelka: Romelu Lukaku comments not shared by Everton
Last updated on .From the section Football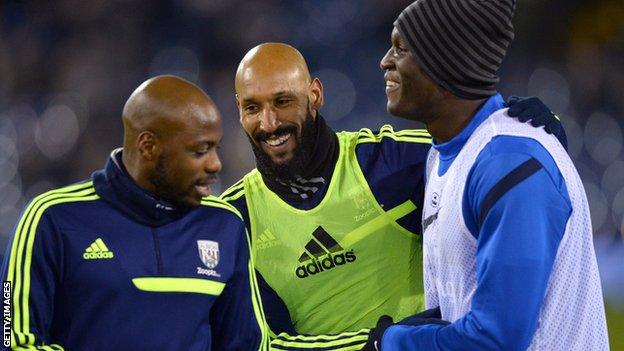 Everton have distanced themselves from comments made by Romelu Lukaku defending Nicolas Anelka's use of a controversial "quenelle" gesture.
The club removed a video from their website in which Lukaku, 20, said the issue was "not such a big deal".
Everton's director of communications Alan Myers said it was "not the opinion held by the football club".
Anelka, 34, has been charged for making the gesture, which can be perceived as anti-Semitic, after scoring a goal.
The former Real Madrid striker performed the "quenelle" gesture after scoring in his side's 3-3 draw at West Ham, but later said he was supporting French comedian comedian Dieudonne M'bala M'bala, who uses it as a trademark.
After Everton's 1-1 draw at West Brom on Monday, Lukaku, who played with Anelka at Chelsea, told EvertonTV the Frenchman was "his idol as a kid".
"I don't think he should be banned, he was just supporting a comedian in France. We don't have to make such a big deal about it.
"I hope he doesn't get suspended because he is a player people want to play on the pitch."
Everton have yet to speak to Lukaku, who is an ambassador for football's anti-discrimination group Kick It Out, about his comments, but removed the footage, which had been automatically uploaded to their website.
"We moved quickly to remove any interview that may have been offensive to anyone," continued Myers.
"The last thing we want to do is cause offence to anyone."
Anelka's actions could land him a five-match ban if found guilty by the FA and have drawn widespread criticism from campaign groups and French politicians.
He has until 18:00 GMT on Thursday to respond to the charge.