Swansea City's Garry Monk and Chico Flores deny squad rift
Last updated on .From the section Football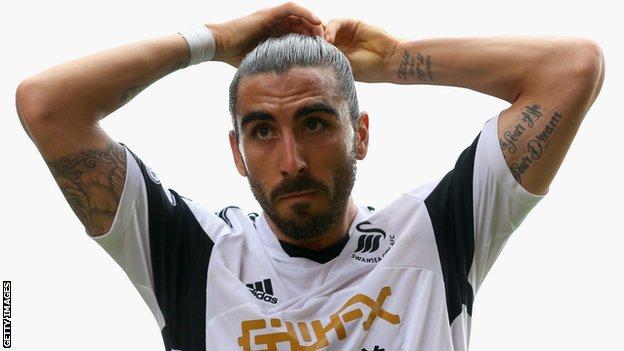 Swansea City players involved in a training ground row say there is no rift within the squad.
Police were called to the Premier League side's training complex on 17 January, following an incident involving Chico Flores and club captain Garry Monk.
The Daily Mail reported defender Flores was seen allegedly brandishing a brick.
"Yes, we had words, but at no time was I threatened with a brick by anyone," said Monk.
"Recent media reports have blown everything out of proportion."
The pressure on the pitch is mounting on the Swans, who have not won in the league since beating Newcastle 3-0 on 4 December, and have lost their last three in a row.
Michael Laudrup's side are three points off the bottom of the Premier League, in 15th place, and face fellow strugglers Fulham, West Ham, Cardiff and Stoke in February.
The club say it is understood a member of the public phoned the police, who felt that "no action was required" and the matter was "dealt with internally".
Flores has been a regular first-team player for the Swans since signing in July 2012 and is one of seven Spaniards at the club.
In a statement released on the club's official website, Monk denied there was division between the Spanish players and the rest of the squad.
"The matter has been resolved and we all remain united, whatever nationality we may be, because we wear the same club colours and that is the most important thing," said Monk.
"We are a tight-knit group - we always have been and always will be."
Chico also released a statement via the club, having earlier commented on the alleged incident via Twitter.
"It was just an argument between team-mates as can happen sometimes in a training session or in any changing room of any football team… nothing more," said Flores.
"I did not threaten anybody in any moment and even less with a brick.
"I consider myself a respectful person and a good team-mate who likes unity and closeness and I help create a good atmosphere around my team-mates.
"My relationship with Garry Monk has always been fantastic and still is . . . any person that is involved in the business of football knows that these small arguments regularly happen in training sessions and even more when things are a bit more tense than normal for not getting good results.
"So I just want all you fans to know that Garry and I are two very committed players for Swansea City and it was nothing more than just a silly argument - nowadays things get blown out of proportion in the press and on social networks.
"It's a moment to be united and focused on the FA Cup this Saturday versus Birmingham and Fulham the following Tuesday in the league."