Nicolas Anelka: West Brom striker defends "quenelle" gesture
Last updated on .From the section Football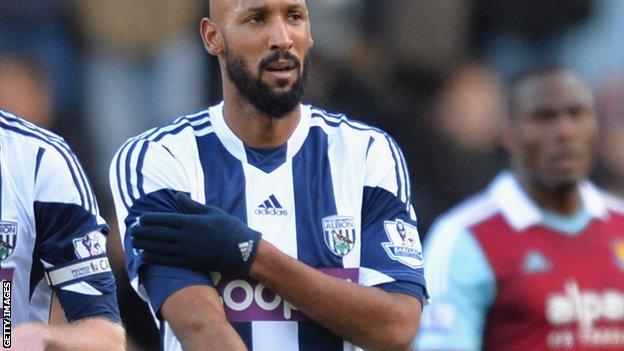 Nicolas Anelka has sought to clarify his use of the "quenelle" by posting a video featuring a prominent Jewish leader claiming the gesture is not anti-Semitic on a football pitch.
The West Brom player faces a minimum five-match ban if found guilty by the Football Association of making an "abusive" sign at West Ham in December.
The striker posted the video on Twitter with the message: "Nothing to add."
The "quenelle" has been described as an inverted Nazi salute.
Anelka has until 18:00 GMT on Thursday to respond to the 34-page FA document detailing the allegations and is "considering his options" according to West Brom.
The man in the video is Roger Cukierman, head of Jewish organisation CRIF (Representative Council of French Jewish Institutions) and vice-president of the World Jewish Congress.
Speaking to French daily newspaper Le Figaro, he argues the "quenelle" is only anti-Semitic when it is performed at a Jewish site and feels a possible five-game ban for Anelka seems "a bit harsh".
"That gesture can only have an anti-Semitic connotation when performed at a synagogue or a memorial to Holocaust victims," said Cukierman.
"In a place that has no significance for Jews, it is merely an anti-establishment gesture which I feel does not warrant any harsh sanction."
Anelka said he is "neither racist nor anti-Semitic" after using it to celebrate scoring a goal in the 3-3 Premier League draw with West Ham on 28 December.
The former France international claimed he used the "quenelle" as "a special dedication" to support controversial comedian Dieudonne M'bala M'bala a day after the French government announced it was trying to ban the comedian's shows over his use of the gesture. Anelka has since promised not to repeat it.
The former Arsenal, Manchester City, Chelsea, Liverpool, Bolton and Real Madrid striker has been accused of a "shocking and disgusting" act by France's Sport Minster Valerie Fourneyron.
West Brom sponsor Zoopla has announced it will end its agreement with the club at the end of the season because of the incident.