Milan Mandaric in no hurry to appoint Sheffield Wednesday boss
Last updated on .From the section Football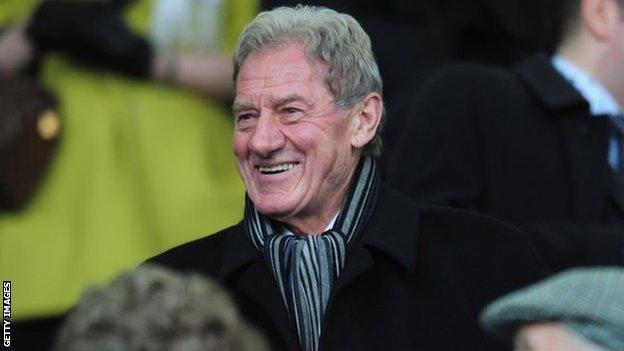 Sheffield Wednesday owner Milan Mandaric insists he will not hurry over the appointment of a new manager despite Stuart Gray's success.
The Owls have won five and drawn four of their 11 games under caretaker boss Gray since Dave Jones was sacked.
But Mandaric told BBC Radio Sheffield he did not believe uncertainty over Gray's future was a problem.
"Whether we announce Stuart or someone else is less important than the fact we keep moving forward," he said.
Mandaric also refused to confirm he was not considering talking to Paul Ince, after the former England midfielder was sacked by Championship rivals Blackpool.
"There are always other options, whether they are tangible or not is a different thing. I really don't like to speculate," he said.
Gray has admitted he is surprised not to have yet been offered the job on a full-time basis, and several players have voiced their support for him to be appointed.
But asked if Gray was in a good position, Mandaric replied: "He's still there, that's a good position."
He continued: "We all know his [Gray's] results, we all know where we are going and there is no commotion, no situation to cause any short-term instability, we just want to do it the right way.
"I talk [to Gray] five times a day. We talk about the club going forward, the game on Saturday, the players we're looking to bring in. I go to the training ground once a day, there is always dialogue.
"I expect [to make an appointment] sooner rather than later, but I can't say it will be before the weekend.
"The supporters will be totally on my side with my approach. I am doing my best job for the club, and what I have done shows the benefits of that.
"I want stability as much as I can - that's why I gave Dave Jones 16 games [this season] and everybody was against me."
Mandaric, who said the club hope to bring in a new striker by the end of this week, acknowledged results had improved under Gray, but said there was still much to be done.
"There's nothing for me to go and celebrate and open the champagne - it will take some time to erase how badly we did at the beginning of the season," he admitted.
He also confirmed there was no immediate prospect of new investment coming into the club.
"There are a lot of people interested in the club but I have never seen any money," he said.