Nicolas Anelka: Defiance and loyalty costly in 'quenelle' case
By Alistair Magowan
BBC Sport
Last updated on .From the section Football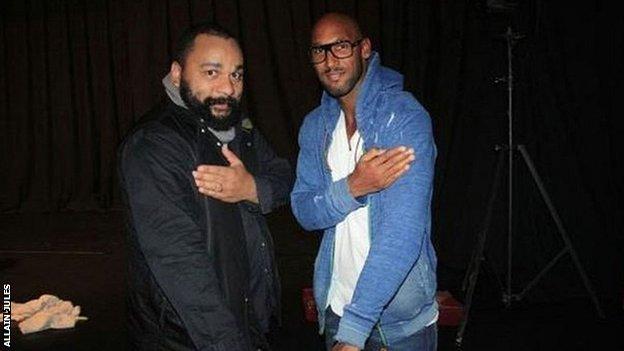 "You can judge a man by the company he keeps." So runs the moral from Aesop's fable about a man who quickly assesses the merits of a donkey by the way it sidles up to the laziest and most greedy of its companions.
In the case of Nicolas Anelka, some may feel that the West Brom striker has also erred in his choice of companion.
The 34-year-old's 'quenelle' goal celebration against West Ham in December has directly associated him with French comedian Dieudonne M'bala M'bala, a man who encourages the use of the gesture and has been convicted seven times of anti-Semitic hate speech.
Anelka has insisted his action was "neither anti-Semitic, nor racist" but he was banned for five games and fined £80,000 by a Football Association commission for an "aggravated breach" of misconduct.
And with West Brom now sacking the Frenchman, it is one of several controversial incidents that have hung over his otherwise successful career.
The former France international has led a nomadic existence, playing for 11 clubs, chalking up over £85m in transfer fees, and winning the Champions League, two Premier League titles and three FA Cups.
But he has had major fallings-out with previous coaches along the way - including a row with France manager Raymond Domenech at the 2010 World Cup that proved the spark for an infamous player mutiny and ended his international career.
The strange thing with the latest episode, however, is that it comes at a time when Anelka appeared to have matured. The Muslim convert is a married father-of-three, and a successful businessman away from football.
During their time together at Bolton, former team-mate Kevin Davies says Anelka paid for the club's players and staff to attend his wedding in Morocco.
So why jeopardise his career with a show of support for Dieudonne, a man who has subsequently been banned from visiting the UK because of public security fears?
Anelka's former Arsenal team-mate Martin Keown and his one-time Chelsea boss Avram Grant believe he may have been ignorant of the consequences rather than acting out of malice.
Grant, who is Jewish and worked with Anelka at Stamford Bridge between 2008 and 2012, said: "He's one of the greatest talents I have ever met in my life but he is not a guy who thinks too much, if I may say, about what he is doing."
And Keown told BBC Sport: "I don't see him as a bad person. I see him as one of the best players I have had the pleasure to play football with.
"He's just a normal kid who might not have realised the significance of what he did. He's protesting his innocence and I prefer to believe that because I know the man very well."
Others are more sceptical, ascribing the gesture to a combination of defiance and loyalty, with a preference to side with people outside the game rather than whoever his current employers might be.
French sports journalist Julien Laurens says it is inconceivable Anelka did not know about the connotations of the gesture, as the striker suggested in the FA hearing. Dieudonne is renowned in France for his controversial shows and has pictures on his website of people performing the 'quenelle' - including at Auschwitz and in front of the Holocaust memorial in Berlin.
The Le Figaro journalist, who has interviewed Anelka many times, says the player's recent actions are in keeping with a character who has little concern for what others think.
"He has always been his own man since he decided to leave Paris St-Germain and join Arsenal when he was 17 because he thought he wasn't playing enough," Laurens said.
"He has never really thought much about the team and the clubs he was at, so I was not really surprised that the whole controversy kicked off.
"He absolutely doesn't care what people think of him - the only thing that matters to him is his close friends and family."
The truth of that, only Anelka knows, but, having grown up in the tough Parisian suburb of Trappes, it is clear that, even in his early playing days, he had a stronger bond with those outside football than with his colleagues.
Despite his success at Arsenal, the teenager also alienated people. He accused team-mate Marc Overmars of being "too selfish", was nicknamed "Le Sulk" by fans and eventually decided on a move to Real Madrid after a supporters' poll preferred fellow striker Ian Wright to the youngster.
But Anelka's problems followed him to Spain, where he was banned for 45 days after a row with manager Vicente Del Bosque. He later failed to secure an extended stay at Liverpool after accusing manager Gerard Houllier of not "appreciating his personality" and then had one of his disagreements with a France national team boss - this time with Jacques Santini.
In 2002, he joined Manchester City but three years later he was on his way again, saying he wanted to join a "big club". After a year in Turkey, where he won a Super League title with Fenerbahce, he was back in England as Sam Allardyce brought him to Bolton for £8m.
There began a two-year rehabilitation period at the Reebok Stadium, before he moved on to Chelsea and spent four years at Stamford Bridge. It was his most successful spell in England, and his longest stay at any club in his career.
This, in the striker's own view, is a fairer reflection of the man.
Of his time at Arsenal, he later said: "I don't know why or who in the first place called me Le Sulk - I'm much more happy-go-lucky than people think. It's just that people don't know me very well."
That more positive portrayal is one backed up, at least in part, by former Bolton skipper Davies.
"He had his own crew around him, but he was generous," Davies told BBC Sport.
"When he got married, he invited all the players and staff, including car washers and groundsmen, to his wedding. He flew them all out to Morocco and put them up for a few days. I'm sure he's a wealthy man but it was a nice gesture."
Even so, the 'quenelle' does not strike Davies as out of character.
"He is obviously a strong-willed personality and stands up for his beliefs and rights when he needs to," he said. "He knows a lot of people, and I imagine he is quite loyal to his friends and his family so it doesn't surprise me that he did that gesture."
He also returns to similar themes about Anelka's loyalty to the cause - or lack of it.
"We always felt Bolton was a stepping stone for him," he said. "Towards the end there were a few snide comments about the way we were playing, and he liked to get on the ball as much as possible. But as a player he was outstanding and it was a coup to get him."
Anelka's demand to be the central figure was the issue that came to a head during half-time of France's 2-0 defeat by Mexico at the 2010 World Cup.
Domenech asked his striker to play further forward, and when Anelka told him bluntly where to stick his tactics he was expelled from the tournament. His team-mates threatened a strike and France went out at the group stage. A government inquiry followed.
If that row and its aftermath exaggerated already divided opinions of him in France, Laurens believes the 'quenelle' episode may deprive him of any good will that is left.
"He is not really seen as a bad guy in France and in fact he is a great guy," said Laurens. "He is knowledgeable, his family is cool, he is interested in other people and business.
"But in the end people will remember him for all the issues he has had more than the goals he has scored.
"He is a very good friend to have and for his mates he will almost do anything - including the quenelle. He says it was only to support his friend but I think he took it too far this time, and some of his closest friends agree."