Nicolas Anelka: West Brom striker wants FA to drop 'quenelle' charge
Last updated on .From the section Football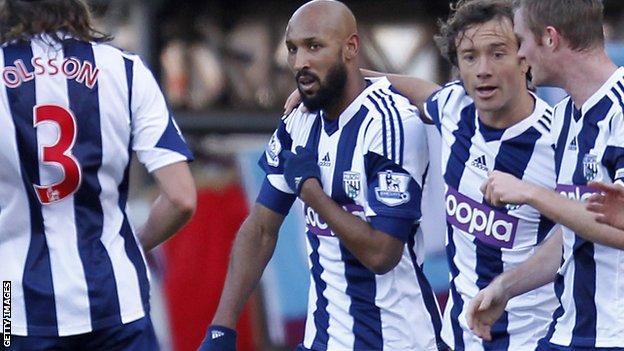 Nicolas Anelka has called on the Football Association to drop the charge against him for his 'quenelle' gesture.
The West Brom striker faces a minimum five-match ban if found guilty of making an "abusive" sign.
His comments come as more of West Brom's sponsors are considering their relationship with the club.
"I ask the FA to lift the charges that have been held against me," Anelka wrote on his Facebook page. "I am neither anti-Semitic nor racist."
Anelka has also criticised the FA's choice of expert to study the gesture he made after scoring in the 3-3 draw at West Ham on 28 December.
The striker posted a video featuring Roger Cukierman, head of Jewish organisation CRIF (Representative Council of French Jewish Institutions), on Twitter on Tuesday and believes the football governing body should have sought his views.
The ex-France international continued: "The English FA have employed an expert to rule on the significance of my quenelle. He has concluded that my gesture had an anti-Semitic connotation, which had led to me being charged by the FA.
"It would have been legitimate if this expert had been French, living in France and with an exact understanding of my gesture.
"What better expert than Mr Cukierman, head of Jewish organisation CRIF, who explains very clearly that my quenelle could not be considered anti-Semitic.
"He also explains precisely when this gesture could have such a connotation."
Following property website Zoopla's decision not to renew its sponsorship, which expires at the end of the season, shipping company FCL Global Forwarding, the University of Wolverhampton, German outdoor clothing company Jack Wolfskin and Holler Watches are reviewing their deals with the club.
FCL signed an initial two-year contract with West Brom in August 2013 to become the Premier League club's official logistics supplier.
The Birmingham-based company will hold discussions on Wednesday about how to respond to the controversy.
The University of Wolverhampton says it will consider its sponsorship of the Baggies at the end of the 2013-14 season.
Marvin Troemer, a Jack Wolfskin spokesman, said: "We strongly disapprove of any gesture or statement meant to discriminate against a single person or certain group of people.
"Now we are waiting on the judgment of the FA commission before taking further steps. It is true that we are considering [ending the West Brom deal] as one option."
A spokesman for West Brom's official timing partner Holler Watches added it was "reviewing its position with West Brom moving forward" and continuing to monitor the situation.
West Brom's commercial department made no comment on the possibility of losing further sponsorship deals.
Anelka, who has previously had spells with Arsenal, Manchester City, Chelsea, Liverpool, Bolton and Real Madrid, has until 18:00 GMT on Thursday to inform the FA whether he intends to contest the charges.