FA Cup: Coventry City aim to shock Arsenal - Steven Pressley
Last updated on .From the section Football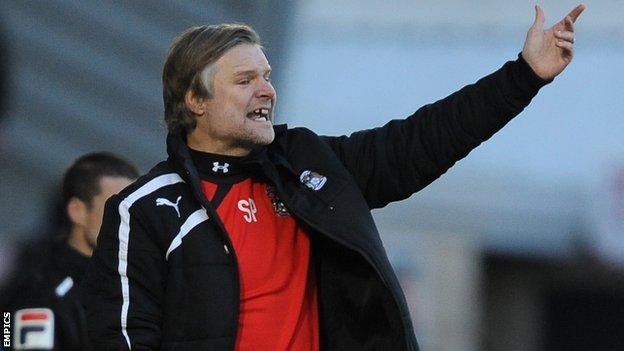 Having spent the past 10 months as the manager of Coventry City, Steven Pressley could be forgiven for not being over-blessed with the powers of positive thinking.
On Friday, the side that are 11th in League One, play an Arsenal team 54 places above them, currently topping the Premier League table and 10-times winners of the FA Cup.
The Sky Blues return to the Emirates knowing that, on their last visit in the Capital One Cup 16 months ago, they got hammered 6-1.
But strange things can happen in the FA Cup.
On their way to winning the Cup at Wembley in 1987, it perhaps gets overlooked that City beat Alex Ferguson's Manchester United along the way - at Old Trafford.
And Pressley will still be sending his team out at Arsenal insisting that they are capable of victory.
"I would not ask my team to turn up on Friday night if I didn't think they had a chance to win the game," he told BBC Sport.
"We're not there just to have a good night and take pictures of the ground.
"This is not about having a great experience. It's about trying to get a result.
"Of course they have terrific players who can make the difference.
"If they open you up and get into a rhythm, you're in for a very difficult night.
"But I hope that we really believe that we can go there and win. Not just to go there for a few pats on the back and be told how well we've played.
"We've got 5,000 fans going and we'd love to give them to something to get excited about.
"We need to be aggressive in possession and on the counter-attack.
"It's going to take a phenomenal performance, a lot of hard work and an element of luck. But, if all those things come together on the night, then who knows."
It is a fixture that City fans were well used to in the 34 unbroken seasons they spent in the top flight between being promoted to the old First Division under Jimmy Hill in 1967 and being relegated from the Premier League under Gordon Strachan in 2001.
They won there on five of those 34 occasions, most famously on the opening day of the 1993-94 season, courtesy of a hat-trick from Micky Quinn.
But that last trip to North London was one that still stays in the minds of the players.
Of Friday's likely line-up, only four players - Joe Murphy, Jordan Clarke, Carl Baker and Franck Moussa - started that night.
And both Liverpool-born wide man Baker, who captained Coventry for the first time that evening, and Belgian midfielder Moussa, who was making his Sky Blues debut, have good reason to remember it.
"I remember walking in and seeing the captain's armband on my peg and I thought it was a mistake," adds Baker. "It was a real honour.
"Last year we played well for 60 minutes. Hopefully this time there will be a lot less looking around and taking it all in and a lot more getting down to business.
"You want the chance to get to play against the best players in Europe. All over the pitch they have names that you watch on TV week-in, week-out.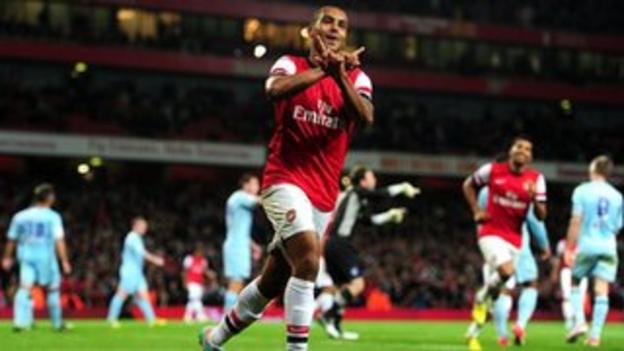 "We've been practising playing 11 against 12 all week to prepare ourselves for what we think it might be like. That's certainly what it felt like last time.
"But our fitness has improved. It was that won us the game in the third round at Barnsley. And we're not going there just to make the numbers up and have a good day out."
Moussa, who has scored 12 goals this season, also backs his boss's pledge not to be overawed by the occasion.
"We can't approach it like a wide-eyed boy looking to swap shirts after," said the 24-year-old. "We've changed a lot since the last time we went.
"We have got a lot of young, hungry players in the team. And it will be the first experience of a big stadium like that for a number of the lads.
"But we just need to focus on the game and not the occasion. It is about separating fantasy from reality.
"Arsenal were the team I watched a lot when I was young because of all their Frenchmen - Thierry Henry, Robert Pires, Patrick Vieira - and France being so close to Belgium.
"And they still have great players - Mezut Ozil, Santi Cazorla - they can do some damage. They're the sort of players who you pay to watch play.
"They're top of the league. One of the best teams in the country. But we'd like to play against their strongest team. It is a great opportunity to test ourselves."
Pressley is not quite so keen to see all the Arsenal superstars at close quarters and would be more than happy to be up against a weakened team.
But he is also realistic enough to know that is no longer part of his opposite number Arsene Wenger's thinking.
"I love his philosophy on the game," said Pressley. "He remains true to his values.
"And the one thing that he's had to live with is the criticism of not winning enough trophies, so I know that he won't be allowing them to take their foot off the gas in any way, shape or form.
"We watched them win at Villa Park last Monday. And I learned a couple of things that we hope to use to good effect.
"It will be extremely important to sustain our levels of intensity if we want to get a result. But the fitness levels of our players is terrific.
"Your dream is to play in top stadiums, pit your wits against the top managers and operate at the highest level.
"And we must have that confidence to take the ball under pressure and play. But you can't fail to get excited."
And, if all else fails?
"Arsene will be getting a lovely bottle of Scotch whisky from me on the night," adds Pressley. "I just hope he drinks it before the game!"