Neymar: Spanish judge to hear lawsuit after Barcelona transfer
Last updated on .From the section European Football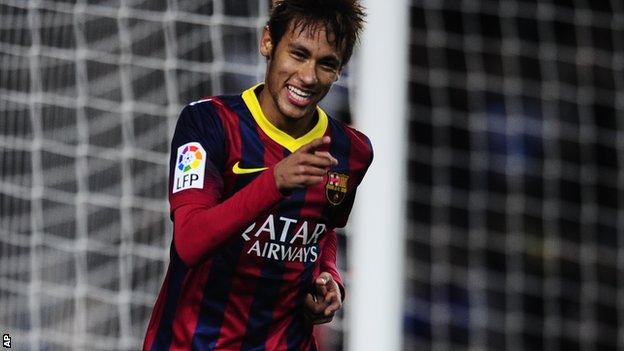 A Spanish judge has agreed to hear a lawsuit brought against Barcelona president Sandro Rosell over the club's signing of Neymar from Santos.
Barcelona club member Jordi Cases alleges that the actual amount paid was more than £48.6m (57m euros) and that Rosell misappropriated funds.
The 21-year-old Brazil striker moved to the Nou Camp in June 2013.
"The lawsuit is against Rosell, not against Barca. We don't think that somebody kept the money," said Cases.
"We only want to know how they account for the expenditures, because it isn't clear," he added to Spanish newspaper El Pais.
Rosell and other Barcelona board members have previously insisted that confidentiality clauses prevent them from revealing the exact amount of the 57m euros received by Santos and three companies who owned shares of Neymar's rights.
Judge Pablo Ruz has requested to see a number of documents relating to the transfer, including Barcelona's contracts for the payment of 7.9m euros for the rights to three Santos youth players, and for the payment of 9m euros to play two friendlies with Santos.
However, Rosell, who succeeded Joan Laporta as club president in 2010, is willing to answer Judge Ruz's questions with regard to Cases' lawsuit.
"We respect all the contracts we sign," Rosell said. "That's why I would be delighted for the judge to summon me for questioning so I can explain all the questions related to the contract."