African talent drawn to MLS
By Oluwashina Okeleji
BBC Sport, Lagos
Last updated on .From the section Football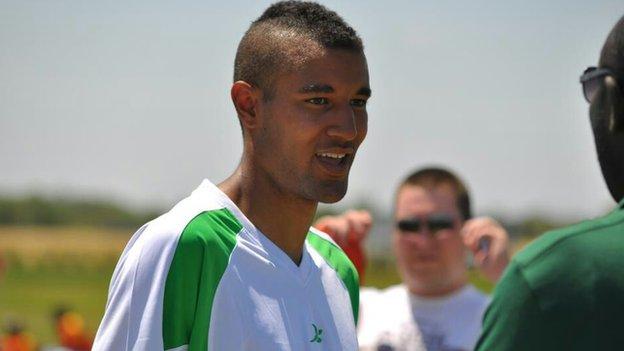 Europe has for a long time been the 'go-to' destination for Africa's finest; the path, despite its many pitfalls, glistening with golden opportunities.
Asia also has its fair share of African players; indeed, its promise of even greater riches has enticed the likes of Asamoah Gyan and Jay-Jay Okocha away from the English Premier League.
And now the eyes of the United States market are beginning to shift towards the shores of Ghana, Cameroon, Nigeria and beyond.
Major League Soccer (MLS) staged this year's SuperDraft in Philadelphia on 16 January - a televised event where the best talent emerging from the US college system stand on show in the hope of getting selected by a club.
The sixth player whose name was called out in Philly was Tesho Akindele (pictured), a Canadian-born attacker who has a Nigerian father. He was snapped up by FC Dallas.
Chosen 17th in MLS SuperDraft was Schillo Tshuma. The 21-year-old was selected by the Portland Timbers, having studied at the University of Maryland - a long way from his hometown of Bulawayo in Zimbabwe.
And Senegalese midfielder Mamadou Diouf completed a hat-trick of African players emerging from the SuperDraft when he was selected by the Vancouver Whitecaps as the 30th pick overall.
For those with the ability, the USA represents twin opportunities - not only do African players get to play in a growing league, but they do so after going through a college education.
Colorado Rapids Director of Broadcasting Richard Fleming said: "MLS is gradually, diligently, getting its house in order. It's a young, but very ambitious league, and clearly there's a place in this region for players of all breeds and backgrounds."
Akindele, Tshuma and Diouf are far from trail-blazers for the African continent.
In fact, they follow in the footsteps of many who have gone before, including Gambia's Kekuta Manneh - the Whitecaps rising star who in October 2013 became the youngest player in MLS to net a hat-trick, aged 18 years and 283 days, during a 4-1 rout of the star-studded Seattle Sounders.
He had been chosen fourth from the 2013 MLS SuperDraft, from which Cameroon's Yazid Atouba Emane also emerged, heading for Chicago.
Manneh's magical performances at the tail end of last season reportedly brought him to the attention of leading European clubs, including Chelsea and Arsenal.
Fleming added: "The example of Manneh is why MLS will grow as a market for African talent.
"Young players are given the chance to shine, they are not squeezed out by squads stacked with already-established stars. They have every chance to get playing time, learn their trade at an improving level and put themselves in the shop window."
Although only two Africa-born players were chosen in this year's SuperDraft - plus one with African parentage - a further seven were also among the hopefuls, including four from Ghana, two from Nigeria and one from Lesotho in Lepekola Seetane.
They could yet find themselves a club, with what MLS refers to as the Supplemental Draft taking place via conference call later this week.
Fleming believes MLS is one of the sport's healthiest markets.
"MLS will be one of the top leagues in the coming years," he said. "Make no bones about that. And, believe me, the league is casting its net wider and wider.
"Yes, they want the best North American talent, but for MLS to be ranked among the best leagues in the world they have to look beyond their own borders. And that is what they are doing.
"The draft system has opened the door for many African players - among them Nigeria-born Azuka Jean Harbor, who was the second-ever pick in the inaugural draft back in 1996."
Harbor played two seasons with the Colorado Rapids in MLS, before drifting down the leagues. He is now a contamination engineer with NASA.
Fleming added: "Obafemi Martins was a big scoop for the Seattle Sounders when he arrived last season. It, ultimately, didn't work out but it shows that this is a market for African players - big or small in reputation.
"The Colorado club fought tooth and nail to sign Cameroon's Charles Eloundou, with other teams just as active across the continent, improving their network of scouts.
"North America is a melting pot of nationalities, and that goes for MLS."
Former South Africa striker Shaun Bartlett played for the Colorado Rapids in the inaugural MLS season, just months after being part of the 1996 Africa Cup of Nations team that received the trophy from Nelson Mandela.
He then carved out a successful career in Europe, before returning home. Times are changing, though, and - 18 years after its inception - MLS, and not Europe, may soon become the go-to destination for Africa's finest.